August 22, 2020
TBDBITL announces its 2020 edition following virtual music auditions
Image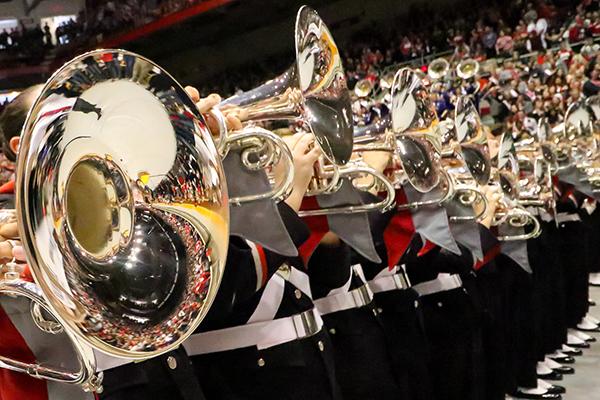 Description
After conducting its first-ever fully web-based music auditions, The Ohio State University Marching Band announced its members for 2020 on Saturday evening.
Rather than the standard in-person music and marching audition process that spans five days, this year's band was selected based on a music audition that each student submitted. Nearly 300 students submitted video auditions, and 225 music-playing students have made the band. Joined by six members of D Row, the drum major training group within the band, and eight student staff, there will be 239 members of The Best Damn Band in the Land this year.
"'Time and change will surely show how firm thy friendship Ohio' are the closing words to the first verse of Carmen Ohio, and it's never been more true than it is today in the midst of what we are facing," said band director Christopher Hoch. "We are all Buckeyes, we will always be Buckeyes and we're in this together. No matter what band you're in and no matter how you make music, this is a place for you to a part of something truly special."
This year's tryout process had students record video of themselves playing a set music audition on their instrument. Videos were due on August 19 at noon. Over the next few days, members of the band staff reviewed the audition videos, scoring the students based on their musical performances. After meetings on Saturday morning to discuss scoring and assemble the band, the staff informed the students of their decisions during a live Zoom meeting on Saturday evening.
The newest edition of TBDBITL will meet virtually as a class for the first time next week during its regularly scheduled class period. Students will eventually meet in-person in small groups for the first few weeks of the semester.
Throughout the semester, the marching band will adhere to strict safety protocols designed to keep its students and staff safe while minimizing the risk of spreading the coronavirus. Students will be rehearsing the majority of the time in smaller groups and rehearsing exclusively outdoors. Students and staff will also have masks on during rehearsals, and brass instruments will be fitted with bell covers. A full breakdown of the band's 2020 safety protocols are available online.  
While the 2020 season will not include performances at football games, the band's plan is to prepare and perform three "halftime" shows. Combined with historical lookbacks, interviews with current and former band members, behind-the-scenes videos and other content, TBDBITL will provide its members and its fans with a fulfilling experience this year.
"I want to thank all of the students who submitted audition videos for their efforts," Hoch said. "We really appreciate everything our students did to make this band, and we're looking forward to a tremendous year in the marching band."
---