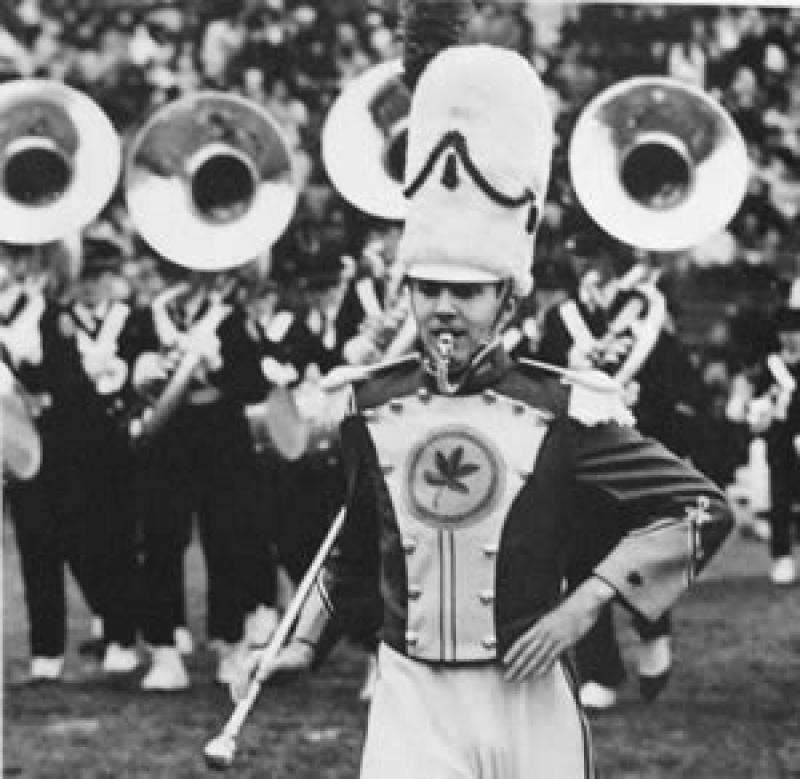 How many drum majors have realized what went into the band they were leading? Kirby Wyatt was one who knew. He got to the top by working his way up through the ranks. In 1961 he started as an alternate in S-Row. He also helped the manager's size and hand out uniforms and helped build most of the props used during those years. Since he thought he really wanted to be drum major, he tried out each spring. On the sixth year he hit it and made assistant; the next year he was drum major.
In an interview with Wyatt, he said, "Little did I know what I was giving up to be out front. No more playing with the 'World's Largest All-Brass Band," no more skull sessions, no row to be a part of, and most important, no ramp in the old sense. As a band member, the waiting in the ramp was one of the greatest moments, all of us building each other to an incredible high so we would 'lift our feet, turn our corners square and Drive, Drive, Drive!"
"As a drum major those moments are gone, you stand there as one, instead of one of 144. You know the band is with you, but the waiting is different because you know that when you go out and lead them down the field, for a moment, you are the focus of THE BEST DAMN BAND IN THE LAND. The need to be the best, to be as good as you know they are, is enough to keep you from eating breakfast on Saturday mornings."
Wyatt's four years in S-Row made him painfully aware of whom he was representing out there. "A baton coming down from 50 feet on a cold day is no more painful or difficult to handle than a mouth piece as you are trying to play and find a yardline under an inch of water on a cold and rainy day," he said. "Being drum major taught me that when you're out front alone, there's nothing like knowing you have the best right behind you."