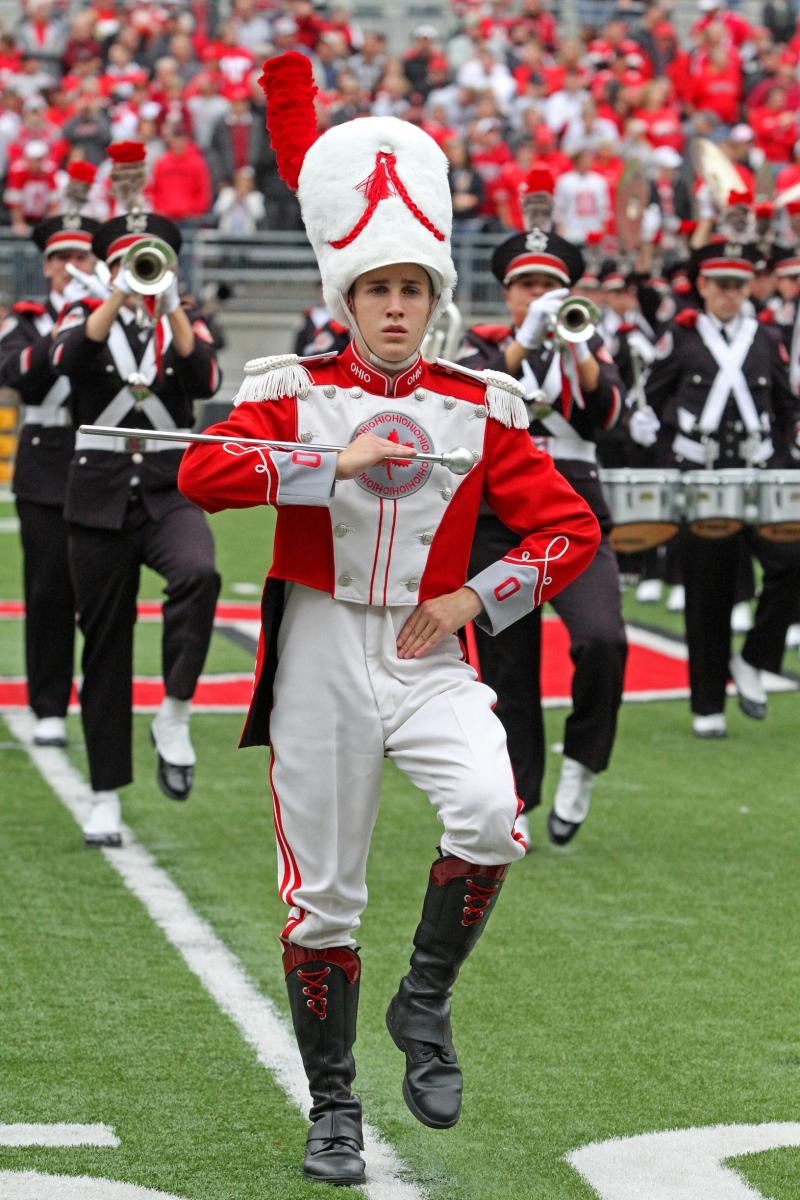 Jason Stuckert fell in love with marching band at a very early age. He attended football games at Avon Lake High School in Northern Ohio and was mesmerized by the high school marching band performances. In 5th grade, Stuckert borrowed his sister's baton and would practice imitating the drum major. By 8th grade, Stuckert had a small bag of tricks. "I really enjoyed twirling, but didn't know what was next," Stuckert said.
That all changed in 2004 when Stuckert's parents brought him a video of the OSUMB featuring OSU drum majors, Matt Bally (1999-2000) and Cory Thompson (1996-97). "I watched the video for the first time and my jaw just dropped. I watched the performance at least fifty times that night." Stuckert decided then that this was something he wanted to do.
Stuckert met Eric Sommer (OSUMB Drum Major, 2004), and Scott Sommer (OSUMB Drum Major, 1998), both graduates of Avon Lake High School. Eric and Scott encouraged Stuckert and invited him to OSU's Drum Major Training Program. There, Stuckert was able to correct his technique and learn a whole new set of skills. "I worked with Shelly Graf (OSUMB Drum Major, 1981), who was unfailingly kind and helpful. I was inspired by Brian Berendts' (OSUMB Drum Major, 1992-93) energy and showmanship" said Stuckert. Stuckert was also influenced by Greg Eyer (OSUMB Drum Major, 1985-86). "Since the first day I met Greg he became a coach and one of the closest mentors in my life."
Stuckert tried out for drum major in the spring of 2010 against seven other candidates. His flips, cartwheels, and jumps made for a memorable tryout, but what truly cemented his win was a zero-drop performance. Stuckert was one of the rare students to earn the spot of drum major as a sophomore, just a few years after Stewart Kitchen accomplished the same feat.
Stuckert's first football game performance was against Marshall University. "I was so nervous for the ramp entrance. I had done it countless times in practice but I was really feeling the pressure. I was leading The Best Damn Band In The Land while representing every drum major who had come before me". Before Stuckert ran down the ramp for the first time he turned around to see the numerous alumni drum majors standing behind him cheering him on. "I looked at all of them standing behind me and smiled. This was it." This moment still stands, he says, as one of his best memories as drum major.

The following year at tryouts Stuckert accomplished his dream again by giving another zero-drop performance against nine highly talented and competitive candidates, and was a clear winner.
Jason had numerous favorite moments as drum major including performing a no-drop show at the Sugar Bowl, beating Michigan in Ohio Stadium, leading the Script Ohio at the 75th Anniversary of Script Ohio, and leading Dr. Woods (OSUMB Director, 1984-2011) to dot the "i" in his final game.