August 13, 2020
Safety Protocols for the 2020 Season
Image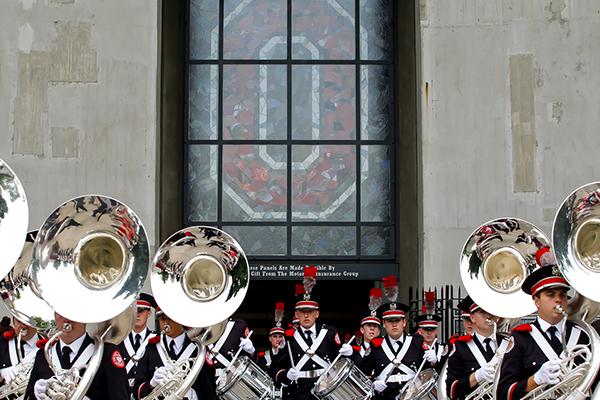 Description
2020 Season Safety Plan
Rationale
The health and safety of the students and staff of The Ohio State University Marching and Athletic Bands is our primary concern.  All recommendations in this document are designed to mitigate risk to all individuals in the program, weighed against the benefits of the program.  We believe that the benefits – to the students, to the university, and to the community at large – along with our ability to significantly lower the risks associated with participation, makes the following proposal feasible and appropriate.
Rehearsal Recommendations, Autumn 2020
This document was developed by the Ohio State Marching and Athletic Band staff during the summer of 2020.  It is based on the recommendations of numerous musical and athletic organizations, as well as on the most up-to-date scientific evidence available, including the ongoing CBDNA study conducted at the University of Colorado Boulder.  It is a living document that can be edited or amended as situations and guidelines change.
I.  General expectations
Instrument pick-up/drop-off.  For large instruments (baritones, sousaphones, and percussion), instruments will be stored in specified locations within the band center.  Only one section at a time will be able to pick up instruments, and each section will be notified of a designated pick-up time during rehearsal hours.  Smaller instruments (trumpets, e-flat cornets, flugelhorns, mellophones, and trombones) should be kept in the possession of individual students outside of rehearsal whenever possible.
Entrance/exit strategy.  All students should plan to enter the Steinbrenner Band Center through the main double doors at the base of the lobby stairs.  All students should exit the band center through the rear doors of the rehearsal hall, proceed down the stairs, and then make their way to the practice field (for rehearsal) or to their home or vehicle.
PPE/hand sanitizer.  Brass students will be required to wear musician masks during rehearsal hours, including outdoor rehearsals.  Percussionists and band staff must wear standard masks at all times.  In addition, hand sanitizer will be provided in restrooms and at the entrance and exit points of the facility.  Each student will be provided with two reusable masks for the duration of the semester.
Bell covers.  All brass players will be required to use bell covers during rehearsals and any performances of the band.  Two reusable bell covers will be provided for each student.
Instrument sharing.  No instruments, mouthpieces, necks and bits, drum sticks, mallets or any other instrument accessories will be shared between members of the marching or athletic bands.
Attendance:  All students must verify that they are safely allowed to participate in on-campus activities through successful completion of a Daily Health Check.  Students not showing a "green" status on their health check will not be permitted to attend class. Any student or staff member that tests positive for COVID-19 will be required to self-isolate until allowed by the university to return to class.  Members of that student's section or row may also be asked to quarantine for a period of time, pending the outcome of a COVID-19 test.  Online activities will be provided for any student who is required to quarantine.
II.  Marching band rehearsals
Outdoor rehearsals.  Since research has shown that COVID-19 has a propensity to spread far less easily outdoors than indoors, the marching band will rehearse outdoors almost exclusively.
Inclement weather.  In the case of inclement weather, we will seek permission to utilize an area of B-deck in Ohio Stadium for music rehearsals, or work with our Athletic Department to secure space in the stadium concourse or in other appropriate facilities.  In a worst-case scenario, the rehearsal hall in the Steinbrenner Band Center can be used to accommodate sections of 30 students or fewer, spaced a minimum of 10 feet apart.
Staggered rehearsals.  The designated class time for marching band is Monday through Friday, 4:10-6:15 p.m.  During the 2020 season, small sectional groups (each of less than 50) will rehearse during a designated portion of that time, roughly two to three times per week.  Outdoor rehearsals for the full band, with proper PPE and social distancing, will take place one to two times per week for an hour or less each time.
Field social distancing guidelines.  All music rehearsals will take place with at least six feet of distance between students.  All drill will be written at a four-step (90-inch) interval between participating members.  In addition, front-to-back drill spacing will be expanded further to decrease the risk of emissions from instruments contaminating people from behind.
Indoor social distancing guidelines.  Indoor music rehearsals, if needed due to inclement weather, will take place only in the rehearsal hall (5,160 square feet).  Allowing for some instrument storage in that space, we will allow groups of 30 or fewer in the space.  Designated "student spaces" will be taped on the floor of the rehearsal hall, and no indoor rehearsal will last longer than 30 minutes.
Water breaks.  Sufficient water breaks will be given to students (as always) during outdoor rehearsals, but no community water bottles will be available.  Every student and staff member will have individual refillable water bottles, provided by the band.  Students will be encouraged to bring a full water bottle to every rehearsal.
Travel.  There will be no band travel in 2020.
Remote work.  All staff meetings and student meetings (squad leader meetings, SAC meetings, row meetings, etc.) will continue to be conducted online via Zoom.  All administrative work that can be done remotely will be done from home.
Facility cleaning and sanitization.  Daily cleanings of the rehearsal facility by the maintenance crew will be conducted regardless of the level of indoor rehearsal activity.  Mary Machuga will continue to be the marching and athletic band contact with the maintenance crew.  All staff members and student staff will be responsible for cleaning their own personal spaces after each day of work.
Uniforms.  All uniforms, regardless of which ones we decide to use, will be the responsibility of individual students.  No student is to trade, exchange, or share any uniform part or accessory.  Uniforms will be worn only for video performances, and, in the case of full uniforms, cleaning will be done professionally after each recording session.
III.  Auditions
Music Auditions.  Every student wishing to enroll in the marching band class must submit a video music audition.  Guidelines have been published online.
Marching Audition.  No marching audition will be required for enrollment in the marching band class in 2020.
IV.  Additional guidelines
Facility access.  Students will not be permitted to use Steinbrenner Band Center facilities outside of rehearsal hours, except with special permission from the directing staff.  For music memorization, students will be required to be at home or outdoors whenever possible.  Music memorization will be required on a very limited basis in 2020.
Restrooms.  Band center restroom facilities will be cleaned and disinfected daily.  In addition, no more than one student will be allowed in a restroom at any given time.
Elevators.  Only student staff and band staff will be permitted on elevators (except in emergency situations), and only one person may occupy an elevator at any given time.
Life Skills Sessions.  Rehearsals that include life-skills sessions will be conducted via Zoom for the duration of the semester.  Added life-skills sessions focused on hygiene and health/safety measures will take place at the beginning of the season and will be reinforced throughout the semester.  Other curricular content that is conducive to online learning will be delivered in that fashion.
---