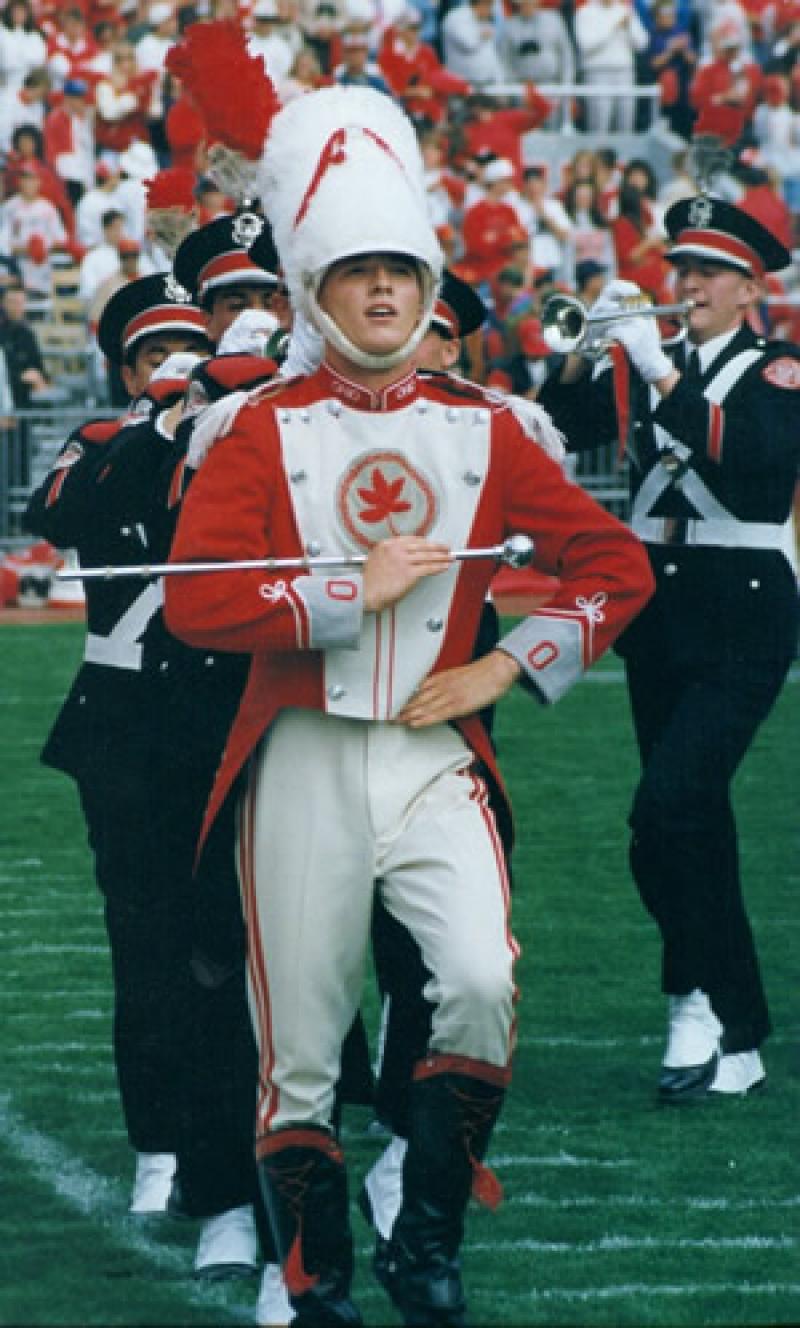 Brian Berendts remembers one thing about his first Ohio State game experience in 1982 - and it wasn't the band. "I remember a quarterback that everybody loved to hate beating the Buckeyes 23-20 in the final moments of the game- Stanford's John Elway - I was a crushed 10-year-old." His first recollection of the band wasn't until after he started twirling on Friday nights at Gahanna Lincoln High, a suburb of Columbus. His mother took him to the year-end concert in Mershon Auditorium where he saw Rich Parks twirl.
" I could do all the same tricks he was doing, but he was so fast and precise." said Berendts.
With a vow to be as good or better, Berendts sought out inspiration frommany former OSU Drum Majors and enthusiastic teaching from former OSU Drum
Major Greg Eyer. Finally, in 1992 Berendts got his chance to lead the band.
Berendts' first ramp was one of the most surreal moments of his life. "It was a dream come true. In the middle of my backbend I was awestruck that all I could hear was my breathing and my heart pounding and not a single one of the 95,000 people screaming and clapping."
On the field, Berendts thrilled crowds with athleticism and style. On game day, he always took time to say hello to Buckeye fans or to pose for a picture with a family or an overwhelmed small child. "I was acutely aware that even though my uniform was unique on the field - I was part of something much, much larger. For a small child at their first Ohio State game, I was a part of their memories of the Ohio State experience."
Berendts won the position again in 1993 and has most of his fondest memories from that year. He especially remembers the night game victory against Washington and the Penn State victory in freezing rain and snow, "The crowd was absolutely electric and cheered fanatically with every trick I did." He also bitterly remembers the drubbing to Michigan that year in Ann Arbor that prevented the Buckeyes and the marching band from attending the Rose Bowl. "I had frozen candy and marshmallows thrown at me for three hours while we lost the game - to this day people still cannot grasp why I hate Michigan so much." said Berendts.
For all his on the field memories, Brian is most proud of his work off the field to help improve Drum Majors at Ohio State after his time was over. Brian and Greg Eyer started the spring Drum Major camp for high school students interested in learning the
Ohio State style of twirling and the traditional ramp. Although the first year had less than a half dozen attendees, it has continued to grow and expand and now attracts as many as two-dozen attendees from Ohio and many different parts of the country.
Berendts is also extremely proud of his degree from the Ohio State University. He credits former OSU Drum Major Oliver McGee, 1980, for warning him not to make being the Drum Major of The Best Damn Band In The Land the biggest thing he ever did in his life.
"I rate my degree from the greatest University in the nation to be of much greater importance, but being Drum Major certainly had a fundamental impact on who I am today as an individual." said Berendts.