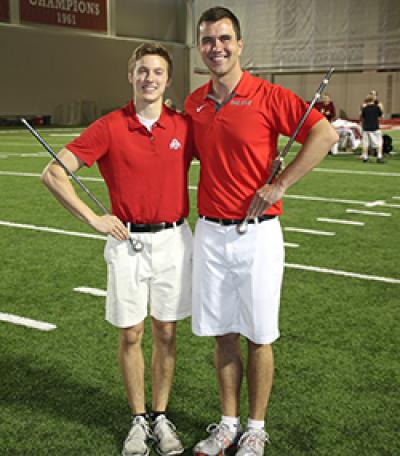 Eligibility
In order to try out for the position of drum major with The Ohio State University Marching Band, an individual must:
Be a student at The Ohio State University or be enrolled via Extended Education or HECC
Have been a member of the OSUMB or D-Row for a minimum of one marching band season
Once these requirements are met, an individual is eligible to participate in drum major tryouts at any point during his or her tenure as a student at Ohio State.
Procedure
Adjudicators for tryouts are selected from the following: OSUMB staff, Ohio State faculty and staff, the current Most Inspirational Bandsperson, selected band members, former drum majors and high school band directors.
Each candidate must perform a series of three elements. The first test is the traditional ramp entrance, which involves the high strut from the north tunnel, toe touch, salute and backbend, and the goal-post toss. Next, candidates perform an individual twirling routine choreographed to a piece of music chosen by the OSUMB staff and performed live by members of the band. Finally, each candidate demonstrates his or her technique with a series of five high aerial tosses.
Announcement of Results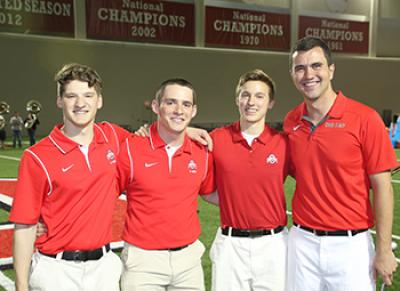 Results of the tryout procedure will be announced by the The Ohio State University Marching Band director as soon as the official scorer deems the scoring process complete. Once the results are certified by the official scorer and the OSUMB director, they shall be final and not subject to appeal.