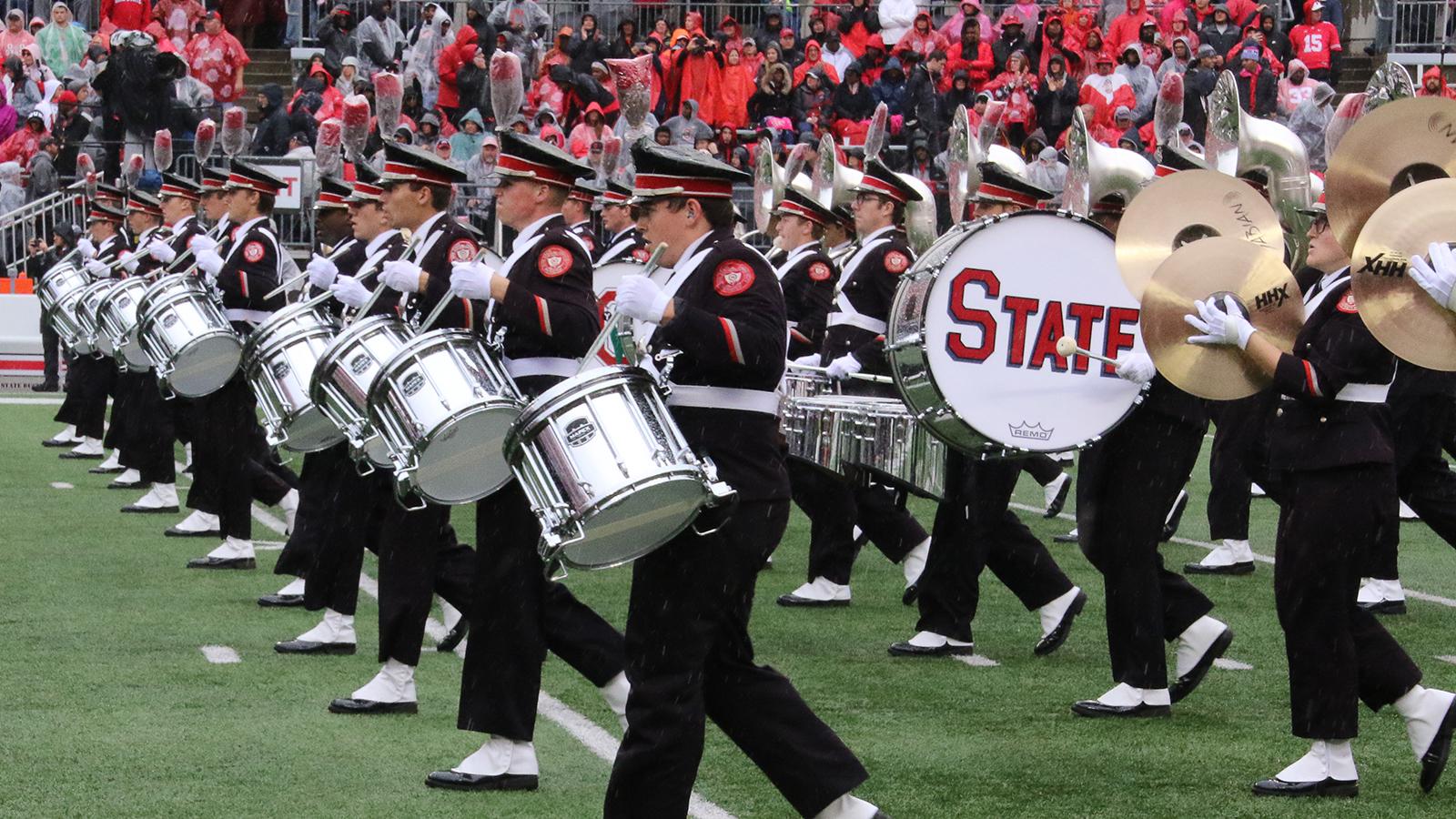 Body
Thank you for your interest in Percussion Camp for 2021. We have reached our cap for 100 enrolled participants. Please check back next year, and if you are looking for a program this summer, consider signing up for our Summer Sessions instead.
---
Looking for a marching percussion camp in Columbus, Ohio, and wanting to learn from the Ohio State University Drumline staff and students? Join us for our first-ever Percussion Camp in June! At our percussion camp, you will spend two days detailing technique and working through the 2021 OSUMB drumline exercise packet for marching snare drums, multi-tenors, bass drum and cymbals.
If you are going into your junior or senior year in high school this fall or thinking about trying out for the Ohio State marching band in August, this is the summer camp for you. All sessions will be led by Ohio State Percussion Instructor Mark Reynolds and assisted by the band's 2021 squad leaders.
Whether you are auditioning this summer or just want to get better before your high school marching band season starts, our Percussion Camp will be great for you!
When: June 4, 6-9 p.m. | June 5, 9 a.m.-5:30 p.m.
Where: Joan Zieg Steinbrenner Band Center
Who: Current high school juniors and seniors as well as OSUMB veterans and candidates enrolled in college
How: Register at this link
Cost: Free to all attendees
Students will meet at the Joan Zieg Steinbrenner Band Center each day and go through various lessons to prepare them for making the drumline. The camp encompasses intermediate to advanced skill sets with a focus on snare drums, tenor drums, bass drums and cymbals.
Participants are encouraged to bring their own drum, stand and sticks/mallets from their school if possible. If they are unable to bring their own instruments, one will be provided for them. To get ready for camp, students should visit the drumline's website and practice the Buckeye Technique 3.0 exercise packet for their instrument. Please bring a copy of the packet to camp in a three-ring binder to protect from potentially windy conditions outdoors.
Students should bring their own water. Lodging will not be provided, nor will lunch on June 5. Students will have a lunch break in the middle of the June 5 session, and there are many restaurants within a short walk of campus.
Pre-Camp Zoom Call
Mark Reynolds will set up a pre-camp Zoom call on May 27 at 7 p.m. to help answer any questions about the Ohio State drumline or about the camp. Details on the Zoom call will be sent out to all who register at a later date.