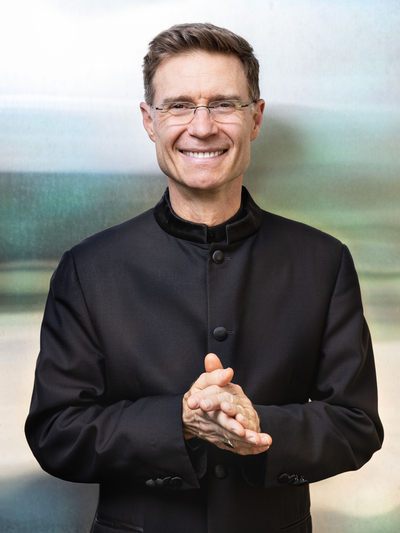 Scott Jones
Associate Director of University Bands
Scott A. Jones is associate professor of music and associate director of Bands in the School of Music at The Ohio State University in Columbus, Ohio. In addition to conducting the Symphonic Band, he also leads the undergraduate conducting curriculum and serves as director of the Ohio State Youth Summer Music Programs. Prior to joining the faculty at Ohio State, Dr. Jones served as director of bands at Concordia College in Moorhead, Minnesota. He also garnered 15 years of teaching experience in the public schools of Apple Valley, Minnesota and Ashville, Ohio.
An ardent supporter of the composers of today, Jones has commissioned more than 30 new compositions for wind band and chamber winds in the past decade. Commissioned composers include David R. Gillingham, Augusta Read Thomas, Libby Larsen, Clark McAlister, Michael Weinstein, Adam Gorb, Daniel Kallman, Scott McAllister, Timothy Mahr, Rolf Rudin, Lowell Liebermann, Elliott Schwartz, Shelley Hanson, Johan de Meij, Brian Balmages, and Martin Ellerby.
A firm believer in creating opportunities for students to interact with great artists of our time, the musicians under Jones' leadership have collaborated with Frederick Fennell, Eiji Oue, Aaron Jay Kernis, Frank Battisti, Seiji Ozawa, David R. Gillingham, Augusta Read Thomas, Eddie Daniels, Frank Ticheli, Mark Camphouse, The Empire Brass Quintet, The American Brass Quintet and a host of other distinguished musical figures.
A native of Fairfax, Virginia, Jones received his undergraduate degree in Music Education from The Ohio State University, a master's degree in Music Education from the Vander Cook College of Music (Chicago, Illinois), and a PhD in Music from the University of Minnesota (Minneapolis).
Jones was recently honored with a 2015 Alumni Award for Distinguished Teaching at Ohio State and was recipient of the 2013-14 Ohio State School of Music Distinguished Teaching Award. He was also named "Music Educator of the Year" by the Minnesota Music Educators Association, and was one of three school band conductors from the United States selected to participate in the National Band Association International Conducting Symposium in Rome, Italy. His guest engagements regularly include All-State Bands and Honor Bands, as well as international engagements throughout Asia.
His professional affiliations include The National Association for Music Education, Ohio Music Education Association, Wisconsin Music Educators Association, World Association for Symphonic Bands and Ensembles, Iowa Bandmasters Association, College Band Directors National Association, National Band Association, and Phi Beta Mu.
Collaborative Rehearsal and Performance Blog/Videos
 [blog]