November 3, 2021
TBDBITL shows fans how to get to Sesame Street
Image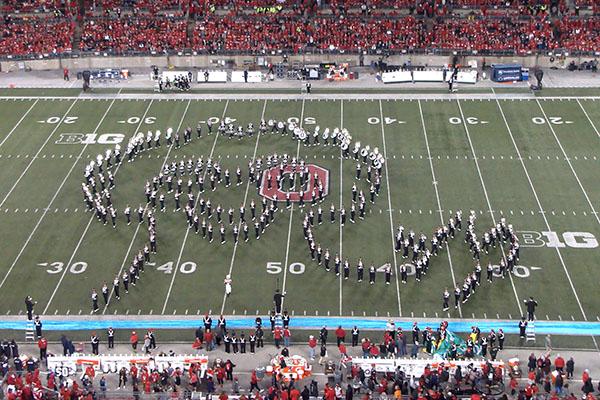 Description
The Ohio State University Marching Band took fans back to their childhood on Saturday night with its performance of its Sesame Street-themed halftime show titled "Can You Tell Me How to Get...?" The show featured multiple formations of popular characters from Sesame Street, all while the band performed music from the long-running children's television show.
The show began with a rendition of "Can You Tell Me How to Get to Sesame Street," the show's iconic theme song that is commonly known as "Sunny Day." The band made a sign pole with a "Sesame Street" banner unfurling inside of it and followed that by making a picture of Big Bird waving at the crowd.
In part two, TBDBITL played a mashup of "C is for Cookie" and "Rubber Duckie," making formations of Cookie Monster and two rubber ducks swimming toward each other. Part three featured "Happy Tappin' With Elmo" and "Lambaba" as the band made formations of Elmo tap dancing and the Count. The count proceeded to count out his three "lucky buckeyes" as his iconic thunderclap sound played over the stadium speakers.
Next up, the marching band went soft for its ballad, Kermit the Frog's memorable "Bein Green." The band made a picture of leaves to coincide with Kermit's lament in the lyrics of being the color of leaves. The song ended with TBDBITL getting into the shape of Kermit himself.
Part five was a lighter moment for the band. Over the tune of "One of These Things," the band turned into two stick figures who pointed out a Michigan logo on a banner among three Block O banners. As the music changed to "I Love Trash," the stick figures grabbed the Michigan logo and placed it into a trash can with Oscar the Grouch. The Ohio Stadium crowd erupted into applause.
Finally, the band played "Sing," making a picture of musical notes cheering up a grumpy Bert. The show concluded with a reprise of "Can You Tell Me How to Get to Sesame Street."
Fans can watch the full show on YouTube at the link below.
The pregame show featured the band's traditional ramp entrance, Script Ohio, Carmen Ohio and more. Connor Oppy dotted the i in Script Ohio.
---