November 25, 2019
TBDBITL Presents 'Looney Tunes'-inspired show at Penn State halftime
Image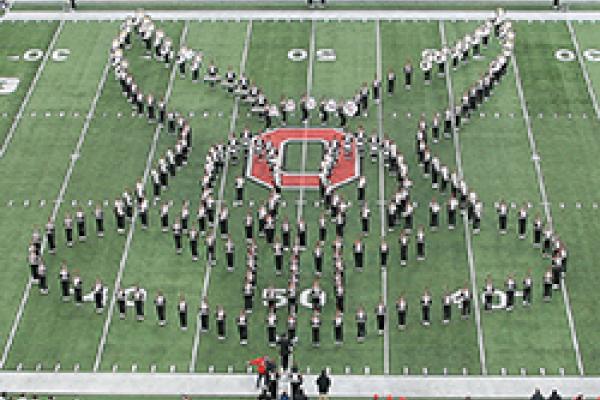 Description
Playing for the final time in Ohio Stadium for 2019, The Ohio State University Marching Band put on quite the show Saturday with its "Classical Toons" performance. The show featured classical music that had all been memorably featured in Looney Tunes cartoons over the years.
Halftime opened with the band in a Warner Brothers shield formation, but the iconic "WB" was replaced by a Diamond Ohio design. That formation was played to the sounds of the Looney Tunes theme song "Merrily We Roll Along."
After that, the band began to play "The Overture to William Tell" with a sunrise formation followed by an archer shooting an arrow off another person's head.
Part three of the show played tribute to "The Barber of Seville" with a spinnin barber pole and a functioning pair of scissors. The scissors traversed the field and sliced a Michigan logo in half to the delight of the home crowd. Part three ended with the band in a Bugs Bunny formation, and TBDBITL stayed there as drum major Konner Barr got the final featured twirling performance of his Ohio Stadium career. Barr twirled facing the north end of the stadium as the band played "Hungarian Rhapsody #2."
The show ended with part five, featuring "Ride of the Valkyries" and "This is It," an iconic Looney Tunes song. Like the famous Looney Tunes cartoon "What's Opera Doc?", the band formed Elmer Fudd in a knight's armor trying to "kill the wabbit" by stabbing a spear into a hole in the ground. The band quickly shifted to depicting the enormous horse, Grane, which Bugs Bunny rode later in that cartoon.
As "This is It" began playing, the band spelled out "That's all folks," shifting to each word individually.
Fans can watch the full halftime show below or on YouTube.
---