October 13, 2021
TBDBITL plays 'The Music of Rush'
Image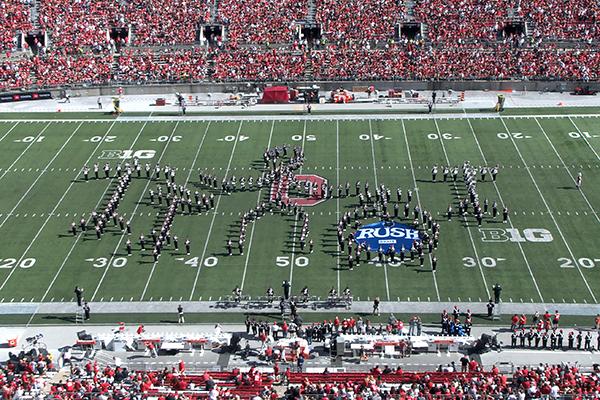 Description
The Ohio State University Marching Band rocked Ohio Stadium on Saturday, paying tribute to one of history's great bands when it played Rush songs. Rush, a Canadian band who gained popularity in the 1970s and 1980s, was known for its progressive style.
Drummer Neil Peart, widely considered one of the greatest drummers of all time, passed away in early 2020. The band honored Peart with two drummer formations and a drum solo with 20 additional toms and 20 additional cymbals mounted on four drum racks played throughout the show.
Part 1 began with the band playing parts of "2112" and "The Spirit of Radio" while forming a guitarist, the Rush band logo as well as the number "2112." 
In Part 2, TBDBITL paid tribute to Peart directly when it played "Limelight." During that song, the band formed an image of Peart on his motorcycle -- he was an avid motorcycle rider who took his bike to shows rather than riding the band bus -- as well as a formation of Peart drumming on a drum set.
In Part 3, Ohio State played a mash-up of four rush songs: "Closer to the Heart," "Red Barchetta," "Fly By Night" and "YYZ." During the final portion of that part, the band's 32 percussion students had an extended drum solo.
TBDBITL closed the show in Part 4 with "Tom Sawyer," one of Rush's biggest hits. 
Fans can watch the halftime show below, which also included Script Ohio featuring a Garrett Everhart as the i-dotter.
The pregame show featured the Homecoming recognition for 2021 as well as another Script Ohio with i-dotter Ben Murawski.
Rush saw the show, with living members Alex Lifeson and Geddy Lee sharing their admiration for TBDBITL's performance. The band shared the halftime show across all of its social media platforms.
---