October 24, 2022
TBDBITL Joins Forces With Iowa Band for Elton John Show
Image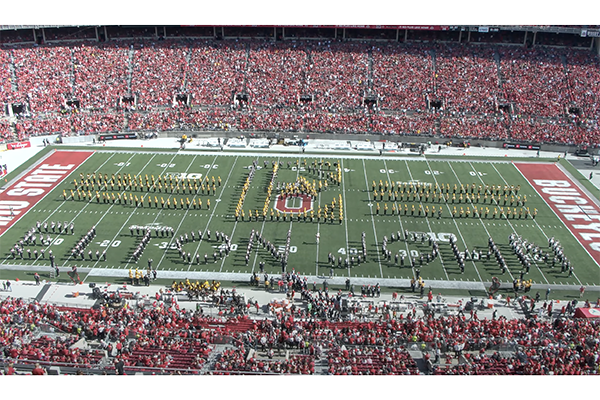 Description
The Ohio State University Marching Band made some new friends on Saturday, joining forces with the Hawkeye Marching Band from the University of Iowa to perform their "A Tribute to Elton John" halftime show at Ohio Stadium.
The two bands rehearsed the combined show separately for weeks before a joint rehearsal Friday evening and then again on Saturday morning. All told, there were more than 425 marching students on the field at halftime. This was just TBDBITL's second ever fully combined halftime show and its first since a game against Purdue in 1995.
The show began with "Goodbye Yellow Brick Road" as the bands made an image of Elton John's current logo. They then began playing "Saturday Night's Alright for Fighting," forming a picture of stars and then a piano surrounded by music note.s
In Part 2, the bands started with "Don't Go Breaking My Heart" with images of pulsing hearts on the field. The second half of that part transitioned into "Crocodile Rock" and served as drum major features for Ohio State head drum major Austin Bowman as well as Iowa drum major Christian Frankl and Golden Girl Ella McDaniel.
The third part of the show featured "Tiny Dancer" and "Rocket Man." The visual highlight from those songs was a sequence with two large ballet dancers on stage.
The show concluded with "I'm Still Standing," where the bands made an image of Elton John performing at a piano as well as a pair of extravagant, star-shaped glasses.
The full show can be seen on TBDBITL's YouTube page below.
TBDBITL performed its standard pregame show earlier in the day, with AJ Frasure dotting the i in Script Ohio.
---