September 9, 2019
TBDBITL, Huntertones Perform 'Salute to Ohio Artists'
Image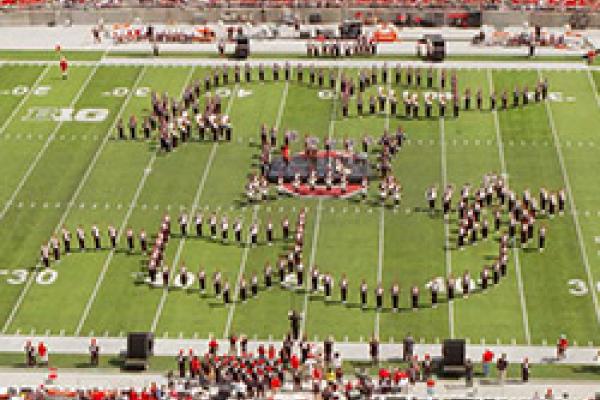 Description
The Ohio State University Marching Band and special guest band Huntertones paid homage to musical acts from Ohio on Sept. 7, 2019, when they performed the "Salute to Ohio Artists" halftime show at Ohio Stadium. The groups performed songs from five different Ohio musicians including a shortened version of Huntertones' "Togo."
The performance began with two songs from Ohio Players: "Love Rollercoaster" and "Fire." The bands then stayed with the '70s era by playing "Love Train" and "For the Love of Money" by the O'Jays. Formations for these songs including moving trains with fire extinguisher exhaust and beating hearts.
After that, things moved into modern music with a version of John Legend's love ballad "All of Me." The marching band spelled out the lyrics "All of Me" and "All of You" while performing.
Huntertones then got to give the Ohio Stadium crowd a taste of their original song, playing "Togo" with TBDBITL. The band stayed put in a Huntertones logo formation throughout the playing of "Togo." All six members of Huntertones graduated from Ohio State's School of Music, and members Jon Lampley and Chris Ott were members of the Ohio State University Marching Band when they were in school.
Things ended with an arrangement of "Trees" from Columbus-area artists Twenty One Pilots. The marching band had a rotating flower formation as well as hand-clapping stick figures during that song before closing the performance with a reprise of the Ohio silhouette and shooting star formation.
TBDBITL will bring this show on the road Saturday, performing it for the Indiana University fans as the Buckeyes face the Hoosiers.
Fans can watch the full halftime show here.
---