September 24, 2021
TBDBITL honors heroes of Sept. 11 with season's first halftime show
Image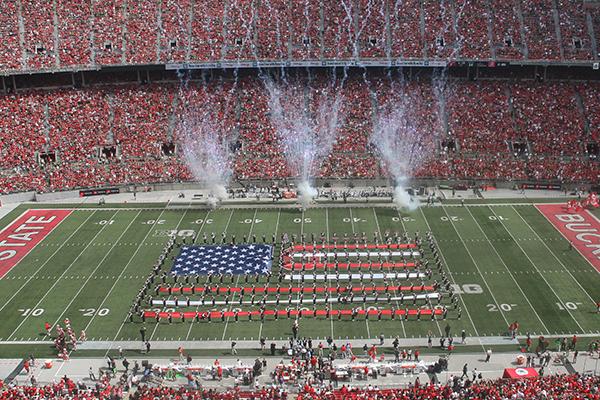 Description
The Ohio State University Marching Band opened its 2021 season on Saturday by honoring the heroes of Sept. 11, 2001 as well as military veterans across the country.
During its "Heroes of 9/11" halftime show, the band welcomed trumpeters from the Central Ohio community to the field to play the first part of the show which featured a performance of "Taps" and "America the Beautiful."
More than 150 trumpeters from the community were present as the band hoped to break a Guinness World Record for the longest line of fanfare trumpeters with valved trumpets. The group was brought together by Central Ohio 14-year-old Chase Hamilton, who organized the event as part of his Eagle Scout Service Project. The group, which also included Ohio State's 84 trumpeters, played together for more than a full minute during the show's first act. The band made a "USA" formation on the field toward the end of the first act.
When the trumpeters left the field, the band began Part 2 of the show featuring Brooks & Dunn's song "Only in America." Though the song was released shortly before 9/11, it came to be associated with the terrorist attack as a symbol of the nation's determination and resolve to rise above that tragic day. During "Only in America," the band formed a bald eagle on the field as well as an American flag and an image of three stars.
The third part of the show featured a military medley where the five oldest branches of the United States Armed Forces were represented as the band played their traditional marches. For the United States Army, the band played "The Army Goes Rolling Along" with a U.S. Army logo. For the Navy's "Anchors Aweigh," the band made an anchor on the field. During the playing of the Coast Guard's "Semper Paratus," the band formed a ship that floated across the grass. "The Marine's Hymn" was accompanied by two stick figures planting a flag in the ground, and the Air Force's official song saw the band make a jet on the field while forming "USAF."
Part four of the show featured Alan Jackson's "Where Were You (When the World Stopped Turning), a song that Jackson released after 9/11 to memorialize the events of that day. The band played that song in a "REMEMBER" formation.
The show concluded in patriotic fashion with the band playing "America the Beautiful" and "The Stars and Stripes Forever." TBDBITL formed the Statue of Liberty and followed that with a three-star picture and concluded with an American Flag.
The show was arranged by Jim Swearingen with drill designed by Dr. Christopher Hoch, director of marching and athletic bands at Ohio State.
Pregame also featured plenty of Ohio State classics including the first ramp entrance and back bend from new head drum major Austin Bowman. Finance graduate Luke Isler dotted the i in Script Ohio, and the band also performed classic Ohio State songs "I Wanna Go Back" and "Hang on Sloopy."
---