November 22, 2020
TBDBITL honors 'Centennial of 19th Amendment'
Image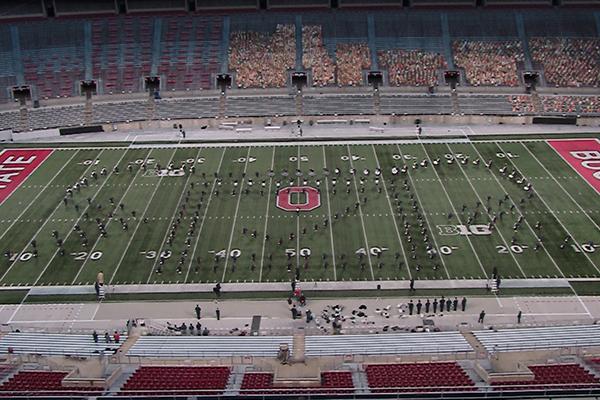 Description
The Ohio State University Marching Band's third performance of the 2020 season featured a show themed around the 100th anniversary of the 19th Amendment to the United States Constitution, which granted suffrage to women.
Recorded in an empty Ohio Stadium on October 30, the show debuted on November 21 before the Buckeyes kicked off against Indiana.
Preceding the performance were interviews conducted with current and former marching band students. Jordan Baggs, a baritone player who finished her time with the band in 2019, discusses coming up with the idea for the show and pitching it in February. Hanna Hutchins and Brooke Butler, current members of the band, also discuss the importance and history of women voting in the United States. Lisa Galvin, a marching band alumna and current arranger for the band, also speaks about her arranging process and the importance of voting.
Following the interviews, the show begins with "Daughters of Freedom," a chorale from the era of women's suffrage. The song ends as the band gets into a formation of "1920."
For the second part of the show, the band plays "Confident" by Demi Lovato and makes a spinning flower before forming the word "RESPECT." The band then plays the Aretha Franklin hit "Respect."
Part four of the show features two different songs. It begins with the single that launched No Doubt's career, "Just a Girl," with the band making the female symbol on the field. The band then transitions into "Sisters are Doin' It For Themselves," a 1980s collaboration between Franklin and Eurythmics, with the band spelling out "VOTES FOR WOMEN."
The show concludes with "Fight Song" by Rachel Platten as the band forms three women on the field uniting.
Fans can watch the full show at below.
---