December 23, 2021
TBDBITL Headed to the Rose Bowl!
Image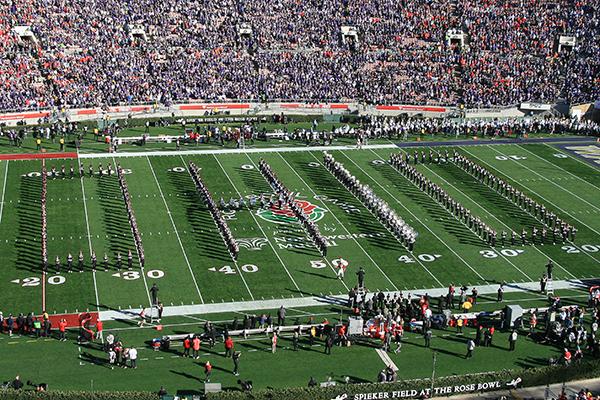 Description
The Ohio State University Marching Band has a fun week ahead in Southern California as it prepares to make a trip to the 108th Rose Bowl Game to support the Buckeye football team when it takes on Utah.
TBDBITL will depart Columbus on December 30 and return in the early hours of January 3, with each day in California providing opportunities for fans in the Golden State to visit the band. A full schedule with the band's public rehearsals and performances can be found below.
Marching band rehearsals will be held at San Dimas High School on December 30 and December 31. The high school's address is 800 W Covina Blvd, San Dimas, CA 91773.
On January 1, the band will perform in the 133rd Rose Parade, a nearly six-mile march through Pasadena. This year's parade is themed "Dream. Believe. Achieve." and features bands, floats and equestrian units from around the country. The parade route and other information can be found on the Rose Parade's website.
After the parade, the band will head to Rose Bowl Stadium for the 108th Rose Bowl Game. At pregame, the band will perform a Double Script Ohio featuring drum major Austin Bowman and assistant drum major Dalton Cararo leading out scripts with i-dotters Luke Isler (west) and Austin Hare (east). Isler dotted the i earlier this season against Oregon and at Michigan, while Hare dotted this season against Akron and Michigan State.
At halftime, the band will perform its "The Music of Rush" halftime show, which was widely shared by Rush itself as well as legions of fans of the Canadian rock band. With a large allotment of time, the band will be able to perform the full-length show as it did on Oct. 9 at halftime of the Maryland game.
The marching band will be staying in California for one extra day after the game, capping its trip with some time in Disneyland in Anaheim. The band will get to enjoy the park and also put on one final performance for the season at the Main Street, U.S.A. Train Station near the park entrance. Fans who wish to see the performance must have a ticket for Disneyland on that day.
Public Appearances (all times Pacific)
December 30
Rehearsal at San Dimas High School, San Dimas | 5 p.m.
December 31
Rehearsal at San Dimas High School, San Dimas | 10:45 a.m.
January 1
Rose Parade, Pasadena | 8 a.m.
Pregame performance, Rose Bowl Stadium | approx. 1:45 p.m.
Halftime performance, Rose Bowl Stadium | approx. 3:30 p.m.
January 2
Public performance, Disneyland Train Station, 12:30 p.m.
---