November 16, 2021
TBDBITL Flies High with 'Top Gun' Halftime Show
Image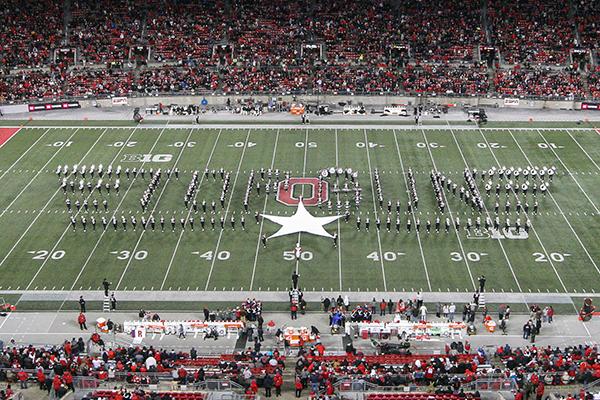 Description
The Ohio State University Marching Band put on a "Top Gun"-themed halftime show for the Ohio Stadium crowd on Saturday, performing songs from the 1986 movie starring Tom Cruise, Anthony Edwards, Val Kilmer and Kelly McGillis.
The show began with the band playing "Top Gun Anthem," the movie's main theme song. The band made a formation of the Top Gun logo to close out that song.
In Part Two, the band played "Mighty Wings" while making a picture of an F-14 Tomcat on the field with an open cockpit. The band then made the plane take off, closing the cockpit and raising its landing gear while making jet exhaust with fire extinguishers. The song closed with TBDBITL spelling out "MAVERICK" on the field in reference to the name of Cruise's character in the movie. 
Part 3 featured two different songs from the movie: "Playing With the Boys" and "Lead Me On." During "Playing With the Boys," the band formed an image of two stick figures playing volleyball in reference to the song played over the movie's volleyball scene. Moving into a picture of aviator sunglasses, the band played "Lead Me On" as head drum major Austin Bowman got a featured twirling segment.
Part 4 saw the band playing a combination of "Take My Breath Away" and "You've Lost That Loving Feeling," and the band closed with a performance of Kenny Loggins' hit "Danger Zone." TBDBITL made a picture of the word "DANGER" and a crosshair before finishing with an image of a person landing on the ground with a parachute.
The band also performed its standard pregame performance. Katie Galuska dotted the i in Script Ohio.
---