November 28, 2022
TBDBITL Finishes Strong With 'Finis à la Buckeye'
Image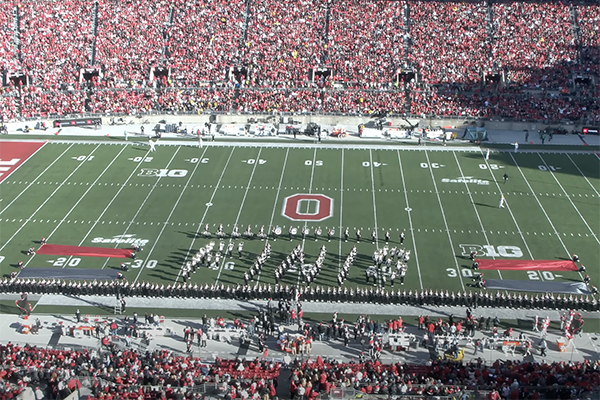 Description
The 2022 football regular season came to a close as The Ohio State University Marching Band performed its eighth unique halftime show of the season. TBDBITL's "Finis à la Buckeye" wrapped up the year with a fantastic classical arrangement featuring some of the most iconic "closing" tunes of all time.
Part 1 of the show combined "Overture to Candide" and "Toccata in D Minor." The band formed into an image of musical notes before marching forward in a company front formation as they crescendoed musically.
In Part 2, the band mashed up the classic "Wedding March" with "Le Règiment de Sambre et Meuse," aka the "Script Ohio" song. The band then transitioned into a medley of "Habanera from Carmen" with some snippets of the school alma mater, "Carmen Ohio." During this portion of the show, TBDBITL did a diagonal version of the Script Ohio formation, complete with an i-dotter, made beating hearts and spelled out "Carmen Ohio."
Part 3 was the show's ballad, featuring a rendition of "Claire de Lune." The band got into formation of the Eiffel Tower and also a tranquil moonrise image to finish that part of the show.
The show and the season finished with a bang, as TBDBITL combined a four incredible closing songs from history: "Festive Overture," "1812 Overture," "Simple Gifts" and "Hallelujah Chorus." During this portion of the show, the band formed images of a conductor with music stands, a Block O and finally ended things by spelling "FINIS."
The full show can be seen in 4K video on YouTube.
The band also performed its standard pregame show, with Avery Voress dotting the i in Script Ohio.
---