October 5, 2022
TBDBITL Brings the World of Shrek to Life with Halftime Show
Image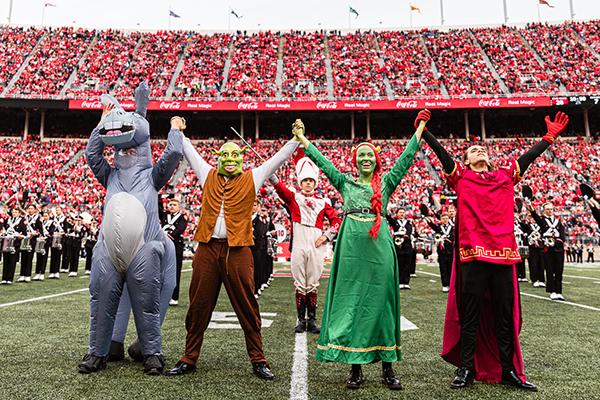 Description
The Ohio State University Marching Band took fans in Ohio Stadium on a magical journey through the world of the Dreamworks Animation movie franchise "Shrek" on Saturday afternoon, playing songs from the iconic series while tell a story of good versus evil. The show featured four costumed marching band students playing the roles of Shrek, Fiona, Donkey and "Lord M-Quaad."
In Part 1 of the show, TBDBITL opened with "All Star" by Smash Mouth. The band marched into formations of the Shrek logo, Shrek's face and Shrek's outhouse.
Part 2 saw the band playing Joan Jett's "Bad Reputation" at the start, and formed into Lord M-Quaad's castle. As that song concluded, segueing into Ricky Martin's "Livin' La Vida Loca," the band made pictures of the Gingerbread Man as well as Puss in Boots slicing a Michigan banner with his sword.
In Part 3, the band performed "I'm On My Way" by The Proclaimers, marching into a picture of Donkey kicking a Michigan logo. Part 4 saw a performance of "Holding Out for a Hero" by Bonnie Tyler while the band stood still for the first half of the song in a formation with an "S" wearing ogre ears. After head drum major Austin Bowman had a minute to twirl for the crowd, the band shifted into a picture of Dragon blowing flames onto the Ohio Stadium turf.
The final part of the show was set to "I'm A Believer," the song first made famous by The Monkees and later repopularized in Shrek by Smash Mouth. TBDBITL formed a picture of Fiona's face and closed by taking Michigan flags down from Lord M-Quaad's castle, replacing them with Ohio State flags.
The band also performed Script Ohio twice on Saturday: Once at halftime and once at pregame. This was done to accomodate the nine i-dotters that the band has this season despite only having eight home games to give them their turn at dotting the i.
The full halftime show can be seen below. Noah Jockett dotted the i in Script Ohio at halftime.
The pregame performance is on YouTube as well, with Dylan Penka dotting the i in Script Ohio.
---