December 2, 2019
TBDBITL Brings 'Classical Toons' Show North
Image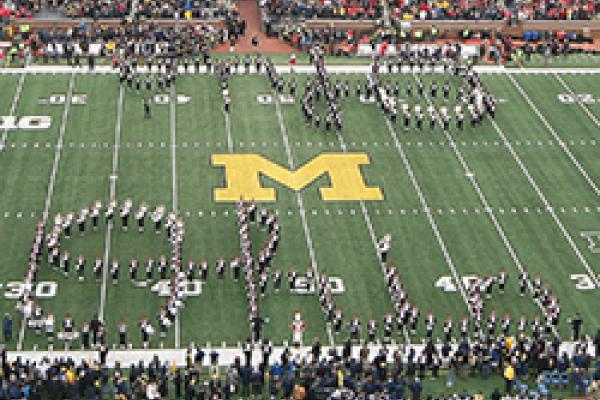 Description
The Ohio State University Marching Band went into hositle territory on Saturday, playing a pregame and halftime show at Michigan Stadium as the football team took on archrival Michigan. TBDBITL's performance produced quite the reception from the 112,000 in attendance, ranging from huge boos from the home fans to raucous cheers from scarlet-clad supporters.
The pregame show began with a floating "OHIO" formation as the band played "Buckeye Battle Cry." A brief salute to the home team followed as TBDBITL marched in a Block M formation to the tune of "Hail to the Victors," Michigan's fight song. The band ended its pregame performance with a Double Script Ohio featuring i dots from Napoleon native Brett Wiemken and Hartville native Adam Brott.
At halftime, the band brought back parts of its "Classical Toons" show from the previous week, playing "Merrily We Roll Along," at the start and following that with "The Overture to William Tell," "The Barber of Seville" and "This is It." During the performance, the marching band formed a Diamond Ohio inside of the Warner Brothers shield, shot a bow and arrow at an apple and poked fun at shared rival Michigan State by using scissors to cut the Spartans' logo in half. That drew a rare round of applause from the Michigan Stadium crowd.
Fans can watch the entire pregame show on YouTube on embedded below.
The entire halftime show is also available on YouTube or below.
---