September 2, 2019
TBDBITL, Alums Honor Ohio State's Sesquicentennial
Image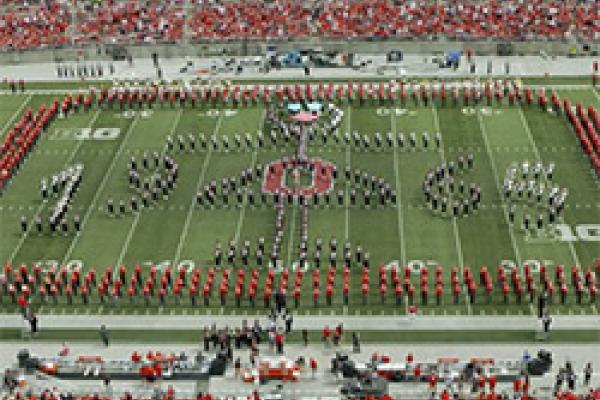 Description
The Ohio State University Marching Band and the Alumni Band honored their history and the history of The Ohio State University on Aug. 31, 2019, when they performed the "Sesquicentennial Celebration" halftime show. In recognition of the 150th anniversity of Ohio State's founding, TBDBITL and the alumni played some classic Ohio State fight songs and some fan favorites.
Included in the halftime show was a "Fantasy on Carmen Ohio" to open the performance followed by the entrance of the Alumni Band to "I Wanna Go Back." The alumni then played "Rock This Town" before the OSUMB joined them for a medley of "Beautiful Ohio," "Round on the Ends" and "Hang on Sloopy." The band recreated history for "Hang on Sloopy" by marching in the original 1965 ballerina formation from 54 years earlier.
Brutus Buckeye got to stand atop a podium during a playing of "We are the Champions," and a reprise of "Fantasy on Carmen Ohio" closed out the main show. The group ended halftime with a quadruple Script Ohio. The alumni formed the east and west scripts while the OSUMB made the north and south scripts in the end zones. The alumni scripts were dotted by Dean Moulas and Scott Eggleston. Sousaphone players Lindsay Hostetler and Taylor Thompson dotted the current band's scripts.
Fans can watch the full halftime show here.
---