September 12, 2022
Stadium singalong! Marching band brings 'Stadium Karaoke' to the 'Shoe
Image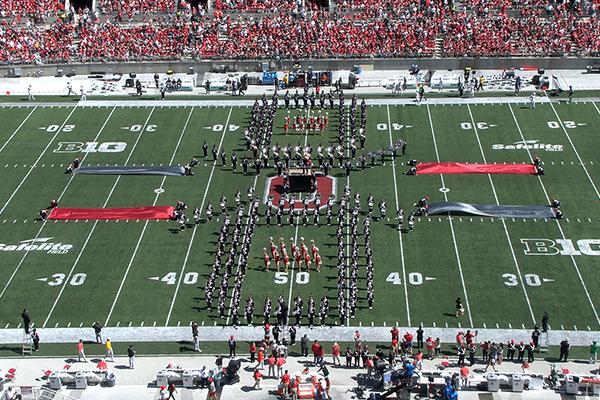 Description
It was audience participation day in Ohio Stadium on Saturday as The Ohio State University Marching Band performed its "Stadium Karaoke" show at halftime of the Buckeyes' game against Arkansas State.
Featuring seven singable classics, the show encouraged the 100,067 fans in the 'Shoe to join in on the fun. The show also featured the Ohio State Dance Team as well as Brutus Buckeye on a stage in the center of the field.
Part 1 of the show featured "Don't Stop Believin'" by Journey, with the band spelling out "DON'T" and "STOP" on the field toward the end of the song.
In Part 2, the band began with Gloria Gaynor's hit "I Will Survive" and transitioned into "Dancing Queen" by ABBA, with four dancing crowns on the field to complement the Swedish quartet's chart topper.
Part 3 featured "Sweet Caroline" by Neil Diamond and "I Want it That Way" from the Backstreet Boys. TBDBITL closed out the show in Part 4 with a combination of "Mr. Brightside" by The Killers and "Livin' on a Prayer" by Bon Jovi.
The full halftime show can be viewed on YouTube.
The full pregame performance can also be seen on YouTube. Fifth-year sousaphone player Bradley Krak dotted the i in Script Ohio.
---