August 27, 2022
Sousaphone player films season-long college football commercial for ESPN
Image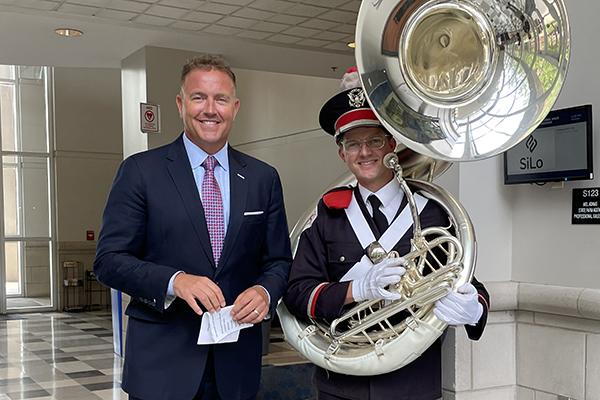 Description
A sousaphone player from The Ohio State University Marching Band is featured in a season-long college football commercial that is now airing on ESPN.
Avery Voress, a fifth-year zoology major from Sidney, Ohio, can be seen in the commercial throughout, dressed in full marching band uniform and holding his sousaphone. Voress is the head squad leader of K Row in this year's edition of the marching band and will be dotting the i in Script Ohio on November 26 when Ohio State football faces Michigan for the teams' first game in Ohio Stadium since 2018.
"It was an amazing opportunity to represent TBDBITL on a national level," Voress said. "I am so happy to have gotten this experience, and I am beyond excited for this 2022 season. See you at the top of the 'i'!"
The commercial, which promotes ESPN's coverage of college football in 2022 as "The Greatest Story Ever Played," features Voress among a crowd of mascots, cheerleaders, band students and fans from across the nation. The group is seated in a lecture hall and is being addressed by ESPN college football analyst and Ohio State alum Kirk Herbstreit as he describes what makes college football special. The commercial also features University of Notre Dame head coach and Ohio State alum Marcus Freeman.
Voress was seated next to cheerleaders from the University of Michigan and is prominently featured in the commercial. During the final lines delivered by Herbstreit, Voress can be seen rising to applaud. Toward the end of the commercial, Voress gets the camera to himself for a "hats off" salute.
The commercial was filmed over two days in early August at Middle Tennessee State University in Murfreesboro, Tennessee. Voress was flown into Nashville by ESPN the day before the shoot and stayed in Nashville for three nights.
During the shoot, Voress had an opportunity for a one-on-one conversation with Herbstreit, who praised the marching band and bragged to others near their conversation about the intensity of TBDBITL's rehearsals.
"At Ohio State, the fans don't leave at halftime," Herbstreit told Voress. "At halftime, everyone comes in to watch [the band]. What an honor."
---