November 8, 2020
Ramp Entrance, Script Ohio come to Ohio Stadium for TBDBITL's second 2020 performance
Image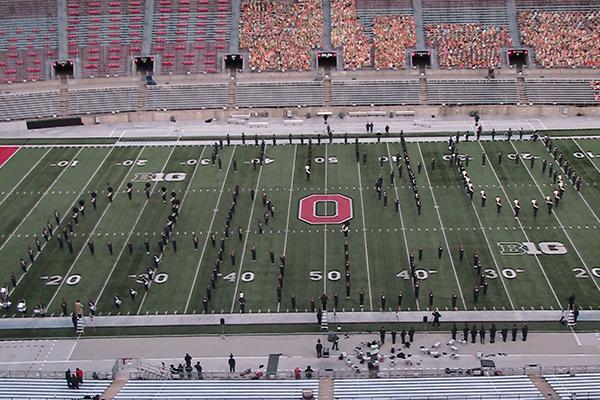 Description
Despite a year that has been anything but normal, The Ohio State University Marching Band still performed a version of its traditional pregame performance in Ohio Stadium in 2020.
The performance, filmed in an empty stadium on October 30, debuted on November 7 as the Ohio State football team faced Rutgers.
The show begins with interviews with Dr. Christopher Hoch, director of marching and athletic bands, as well as students Ryan Lannutti and Ben Murawski. Lannutti and Murawski were the i-dotters for the Double Script Ohio featured in the performance.
Following the interviews about the significance of the ramp entrance, Script Ohio and Carmen Ohio, the band's performance begins.
In order to maintain social distancing, the traditional ramp entrance was modified for 2020. The entire band no longer comes down the stadium ramp in rows of seven. Instead, the drumline enters as normal in groups of two, and the rest of the band enters the block formation from the sidelines. Drum major Brayden Deemer then runs down the ramp and performs a backbend before leading the band down the field.
Like the ramp entrance, the incomparable Script Ohio was modified for 2020. Students stay six feet apart throughout the unwinding formation, but the number of students participating remains the same. Deemer led the west Script while assistant drum major Kyle Hustek led the east Script. 
The band closed the performance with a playing of Carmen Ohio. The full show can be seen below.
---