December 23, 2019
Q&A With 2019 Most Inspirational Bandsperson Daniel Brinker
Image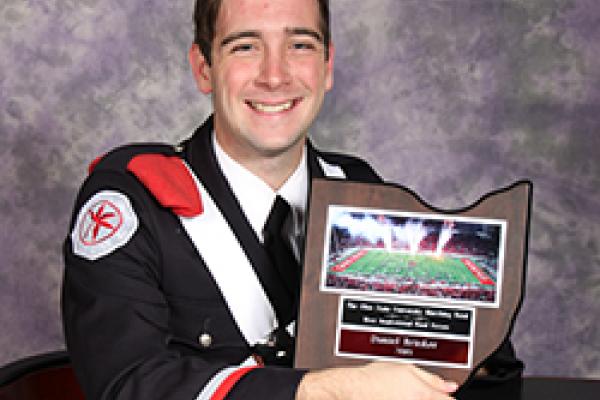 Description
Johnstown, Ohio native Daniel Brinker was named TBDBITL's 2019 Most Inspirational Bandsperson (MIB) during a ceremony at the Hometown Concert in November. The award is presented annually to one outstanding band member who performs at a high level, maintains the band's tradition of excellence, shows extraordinary respect and has an attitude of gratitude for all the band experience has given them.
All band members are eligible for the award. An initial band-wide vote narrows the list to 10 nominees (this year 11 due to a tie), and the band then votes for the winner. The 2019 nominees were Konner Barr, Olivia Boden, Daniel Brinker, Adam Brott, Morgan Davis, Abby Duncan, Kenny Dungan, Anna Hurley, Taylor Thompson (K Row), Brian Vasilou and Zachary Wurzelbacher.
Below is an interview with Brinker, this year's MIB. A fifth-year band member who plays trumpet and is the head squad leader of T Row, Brinker plans to use his music education degree from Ohio State to share his love of music with future band students. He was previously an MIB nominee in 2018.
What does the award mean to you and what does it take for someone to win it?
From the outside looking in, this award was always given to someone who really represented the band. Someone who was really able to be themselves, was genuine, was always positive and supporting the band. Somebody who always respected the band, what it is, and everything that it holds.
What have you looked for when casting a vote for someone in the past?
I've looked for somebody who is always positive, productive and giving their best. Somebody who is always representing the band as well as they can, whether that means being a positive representative to someone in the band, to a high schooler coming to Summer Sessions, or just walking around in full uniform, smiling and really showing who the band really is. Even if I didn't know that person that well, I trusted them to represent me and the band as best they could.
Were you surprised to be nominated the first time in 2018?
Yes, actually, because I didn't feel like I was one of those people. Not that I did anything wrong, but I felt there were other people who were just as good, if not better. It was very much like, 'Whoa, I'm one of those people that I've looked up to for the past three years now.' It was very surreal being nominated.
Were you therefore shocked when you won this year?
I was expecting any of the other people to win this year because they're absolutely amazing. It almost didn't feel real because it didn't feel like everybody knew me in that way. It shows that people actually were looking up to me and that I was the role model I was hoping I was being. I wasn't expecting me at all — it could be any of this year's nominees because they all do exactly what this award represents: They inspire the rest of the band, they hold themselves to excellence and they're positive people. So, I wasn't really expecting anybody in particular to win, just not myself.
What does it mean to even be in the nomination pool?
It was beyond phenomenal. It was amazing because I actually came to the Hometown Concert my senior year of high school and saw the band give the award, but I didn't necessarily know all the meaning behind it. I just saw The Best Damn Band in the Land and where I wanted to be the next year. But now being in the band and being nominated by all my best friends, people I'm surrounded with almost 24/7 in the fall, it's amazing. I didn't imagine six years ago that not only would I be on that stage, but I would be the one receiving that award. Maybe a future MIB was sitting in that audience this year.
Why do you think your bandmates voted for you to win the award?
I do a lot within the School of Music and Kappa Kappa Psi. I've worked three Summer Clinics now, I'm a student recruiter in the School of Music. I try to get to know all of the first-year members, not only within the trumpet section but in the whole band. If I'm going to correct somebody on the field, I want to know their name first. I was doing everything I loved, and I was very passionate about everything I did, and I treated everybody as I would want them to treat me.
What are your plans for the future with your music education degree from Ohio State?
Future me, I'm not sure necessarily how I want to get there, but I know I want to go back to college, get a master's degree and PhD in education. I want to teach music students, gain experience and then I want to come back and teach future music educators wherever I end up. I want to be surrounded by people like me, preparing them to inspire people and give students the experiences I've had. Not only would I be impacting my students, but I'd be affecting all the lives they will touch. Not only would I see my students perform in other groups, but 50 years down the line I'll be watching my students take their bands to competitions and watching them give their bands the same opportunities that I have now. TBDBITL's filled all those connections for me and given me resources for networking, but it gave me that foundation to show me this is what I want to do and this is how I want to do it.
How involved will you remain with TBDBITL?
I will be a proud alum. I'm excited to watch the band grow and watch the current underclassmen have those experiences that I've had. I do want to come back and march in the alumni game at some point. Hopefully I'll send my own students to TBDBITL and I'll be marching down the ramp with them in full uniform. I see friends taking pictures with their TBDBITL alumni directors, and maybe that will be me one day, with my students in the band wanting to find me at the alumni game and wanting to take a picture with me.
---