November 6, 2017
Ohio State Marching Band members work to promote literacy in Columbus schools
Image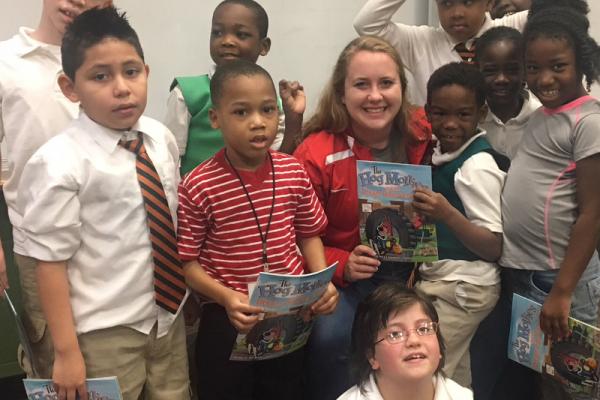 Description
Being a member of The Ohio State University Marching Band is a special opportunity that few get to experience. After making it through a rigorous tryouts process, rehearsals and performances, band members can serve a source of inspiration for Buckeye fans and aspiring TBDBITL members alike.
Mellophone player Kelsey Crawford is doing her part to inspire younger Buckeye fans, but is doing so off the field. Crawford is one of several OSUMB members that volunteers with The 2nd & 7 Foundation, a nonprofit organization dedicated to improving literacy in local schools with the help of high school and collegiate athletes.
The Columbus-based organization was founded by three former Ohio State football players and has quickly spread to elementary schools across the country. Crawford said she was inspired to join because of the program's reach and ability to encourage student-athletes to give back to their communities. 2nd and 7 invited band members to join Ohio State student-athletes in volunteering at local schools.
"It feels great [to volunteer]," Crawford, a fifth-year chemical engineering major, said. "I absolutely love children and the band, so to combine those two things to hopefully help excite them about reading and education is an amazing opportunity."
Each week, Crawford and other members of TBDBITL spend time with students at schools all around Columbus. Together, they read books provided by 2nd & 7 and talk about what it's like being in college, being a Buckeye and the hard work it takes to get there.
The hours put in by Crawford and the other OSUMB members have left a lasting impact on the students they've read to. From day one, Crawford has seen that TBDBITL members, along with their student-athlete counterparts, are truly inspiring students and instilling in them a lifelong love for reading.
"My first time volunteering, one of the students came up to me and asked me to sign the book I had just given him," she said. "As I was signing, he told me that he would read every day and work really hard so that he could get to college and be in the band like I was. That was a pretty special moment."
While Crawford has worked with kids before, she said that she wasn't expecting to bond with the students as quickly as she has. Their energy and passion to achieve their dreams has served as a source of inspiration for Crawford and other band members, making the experience incredibly rewarding for all involved.
"The interactions with the students just makes my day much brighter," she said. "It's also great when I look around the room we're in and see some of my band friends sharing the incredible moments with me. They also inspire me to be a better leader."
---