April 21, 2018
Ohio State Marching Band selects drum majors for 2018 season
Image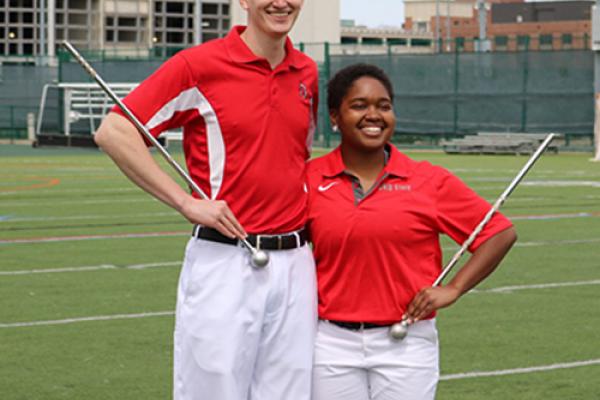 Description
After a competitive tryout against the backdrop of Ohio Stadium at the Lincoln Tower Park practice field, The Ohio State University Marching Band has selected its drum majors for the 2018 season.
Konner Barr, a rising fourth-year student, is the 62nd drum major of the Ohio State Marching Band, and Morgan Davis, a rising-third year student, is assistant drum major. Barr and Davis were among six candidates who competed — all current or former members of D-Row, the band's drum major training squad.
Each candidate performed the traditional pregame ramp entrance (including the high strut from the north side of the field, the backbend and the goal-post toss), an individual twirling routine set to music and a series of five high aerial tosses. Judges included previous drum majors and members of the band staff, and student musicians from the spring Athletic Band and 2017 Marching Band provided the musical accompaniment.
Barr, a strategic communication major from Gahanna, Ohio, says that his path to be Ohio State drum major probably was longer than most. When he was still very young, his older cousin was a high school drum major at Gahanna before joining D-Row at Ohio State. Barr remembers watching his cousin practice at home, which put a dream in his head at an early age.
"At the age of 3, I started twirling sticks in the yard," Barr said. "At 6 I started twirling competitively."
He's been twirling for the 14 years since then, including as drum major at Gahanna Lincoln High School. He was on D-Row during his first year at Ohio State in 2015, and he was assistant drum major of the Ohio State Marching Band for the 2016 and 2017 seasons. Now that 2018 tryouts are over, he can breathe and look forward to the season ahead.
"Now that I've finally achieved my dream of being drum major, I can take a deep breath and start preparing for the season," Barr said. "But just getting the opportunity to lead this band is an honor of a lifetime in itself."
Davis, a sociology major and legal foundations of society minor from Elyria, Ohio, began twirling when she was 10 years old, and she also served as drum major while a student at Elyria High School. She was a member of D-Row for the 2016 and 2017 seasons.
"When they announced my name, I was in shock," Davis said. "I'm so happy, and I'm excited to be working with Konner. He's been a great role model and has taught me a lot."
Davis is the first-ever African American female drum major or assistant drum major of the Ohio State Marching Band, and she is only the fourth female student in the history of the organization to hold either position.
"Representation is very important, and there aren't very many people who look like me who have been through the drum major program here, so I'm very excited to be setting an example for others."
Christopher Hoch, director of Marching and Athletic Bands and assistant professor in the School of Music, says that he is impressed with both the skills and leadership qualities in the band's new drum majors.
"Not only are Konner and Morgan talented performers who demonstrate great twirling ability and showmanship, but they will be tremendous student leaders for our 2018 band," Hoch said. "I'm looking forward to working with them over the year ahead, and I know our students will as well."
Barr and Davis are the first two students to have secured their spots for the 2018 Marching Band. All others will try out in mid-August.
---