September 26, 2023
Ohio State marching band performs Spanish-influenced halftime show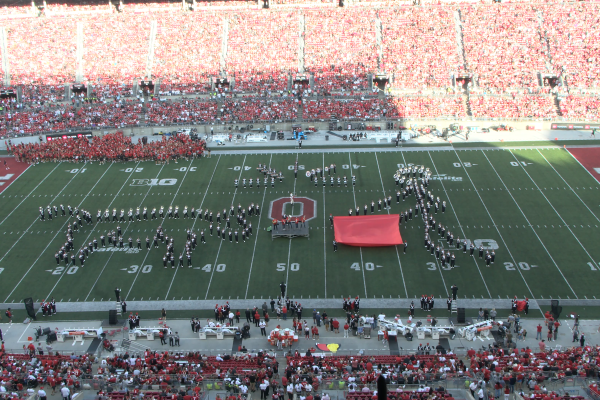 The Ohio State University Marching Band celebrated classic jazz standards during halftime Saturday with some help from the Boston Brass quintet.
Since 1986, Boston Brass has established a reputation for performing colorful classical arrangements, burning jazz standards and an original brass repertoire.
Celebrating a show titled "El Matador," the marching band and Boston Brass performed jazz standards "Malagueña," "The Tiger of San Pedro," "Spain" and "Spanish Fantasy, Part 4."
Both the percussion section and drum major, Clayton Callender, were featured during the halftime show – Callender during "Spain," and the percussion section during "Spanish Fantasy, Part 4." Band members Bobby Petty and Will Fisher were featured soloists.
The band's formations included two bull heads, two trombones and a Spanish crown.

Halftime:
Cameron Reinbolt, a music education graduate, was the "i" dotter.

Pregame: 
---