April 25, 2016
New Drum Majors for 2016
Image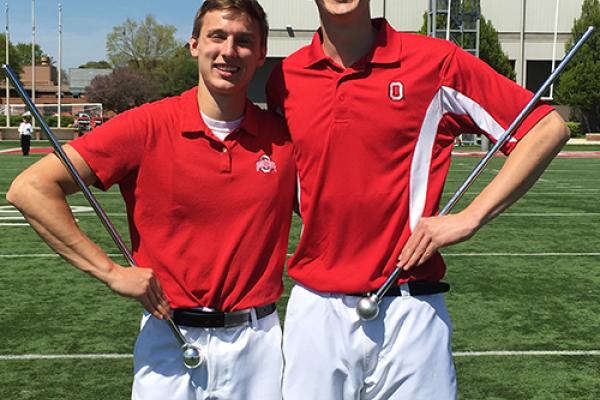 Description
The Ohio State University Marching Band has its new drum majors for the 2016 season.
John LaVange, a second-year student from Warren, Ohio, is head drum major, and Konner Barr, a first-year student from Gahanna, Ohio, is assistant drum major.
Tryouts were held on Sunday, April 24, at the Harmon Family Football Park outside the Woody Hayes Athletic Center. In front of hundreds of spectators, LaVange and Barr were among six candidates that each performed the pregame ramp entrance, a twirling routine and five high aerial tosses. Members of the 2015 Marching Band and the 2016 spring Athletic Band provided the musical accompaniment for the candidates' performances.
A panel of 22 judges, including the band's directing staff and 11 past drum majors, evaluated the candidates. The final results were based both off of the performance audition (75 percent) and an in-person interview to evaluate leadership potential (25 percent).
LaVange, who will be entering his third season with the Marching Band, was the assistant drum major during the 2015-2016 season. He spent his first year in the band on D Row, the drum major training squad. A Fisher College of Business student, LaVange is majoring in finance and economics. He was also drum major of the Howland Marching Band in Warren during his junior and senior years of high school.
"I'm incredibly honored to hold the position of Ohio State drum major and am very happy to say I have achieved a dream I've had for many years," says LaVange, the band's 61st drum major. "I'm very excited to see the shows we will be putting on the field this year, and I can't wait to help add a bit of drum major flare to it. I owe everything to all those who have supported me so incredibly throughout my life, and I couldn't be more thrilled to be a representative for them, TBDBITL and the university as a whole." 
Barr will be entering his second season with the Marching Band, having spent his first year on D Row. He studies communications in the College of Arts and Sciences. Before coming to Ohio State, Barr was drum major at Gahanna Lincoln High School for three years. He has twirled competitively for 14 years.
"I'm extremely blessed to have been named assistant drum major of The Ohio State University Marching Band," says Barr. "I'm looking forward to a great season, and I'm excited to be in a leadership role with John. This season will be one to remember with TBDBITL, and I can't wait for it to start." 
The 2016 Marching Band season will officially begin in mid-August when the remainder of the band is selected.
Top photo: Drum Major John LaVange, left, and Assistant Drum Major Konner Barr, right
---