September 19, 2019
Mellophone player Audrey Watkins has talents that go well beyond marching band
Image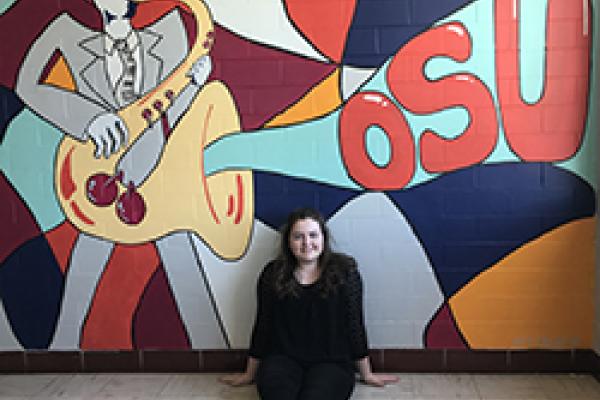 Description
When Audrey Watkins found out her design for the mural won, she couldn't believe it. At the time, she was just an Ohio State freshman who took a chance on creating a floor-to-ceiling design for Hughes Hall. She didn't think it was possible for her to win the contest.
The design wasn't even something she would normally do. It was abstract, not at all her usual style.
But Watkins — now a third-year member of The Ohio State University Marching Band — had underestimated her submission. Her reaction when the Art Club president gave her the good news?
"I was like, 'What?" Watkins said. "There's no way."
There was a way. From the very first semester she stepped on campus, Watkins has been showcasing her talents to the Ohio State community. And where those talents stop, no one is quite sure.
Watkins plays more than a handful of musical instruments: piano, violin, French horn, trumpet, trombone and mellophone. That last one — an instrument she picked up as a junior in high school after begging her band director to let her try it — is what she currently plays as a member of TBDBITL. Mellophone is the instrument that gets her cheers in front of 100,000 people on gamedays at Ohio Stadium.
But music is hardly where her talents end. She paints with watercolors and acrylics. She has been acting in plays since age 9. She sang in show choirs and in a cappella groups. She designs sets and costumes for community theater and Ohio State classes. Lately, she's been getting into digital art and animation.
"The things she does are so impressive and so intricate and so creative," said Anna Hurley, a TBDBITL sousaphone player and Watkins' former roommate who got an inside peek into Watkins' creative process. "Audrey will post time-lapse videos of her drawing on her iPad, and just watching how her mind works is so cool to see."
If you're looking for where Watkins got her creative genes, look no further than her parents. Her mother, Joy, is an award-winning quilter and wood carver who helped get Audrey interested in the arts. Her father, Mark, does custom woodwork and spends time during his day job drawing maps for farmers as a soil and water conservation specialist. The artsy genes trickled down to her younger sister, Ashley, as well. Ashley sings, dances and does delicate needlework.
It didn't take long for Watkins' talents to emerge as a child. She began playing piano at age 4. Soon after that, she was drawing and painting and acting. As an elementary school student, she took on the role of a munchkin in a "Wizard of Oz" production and kept acting after that.
When it came to picking a brass instrument, the French horn immediately called to her. In fifth grade, she saw one for the first time and knew she had to play it.
Her band instructor had other ideas. Watkins was forced to play trumpet due to a dearth of trumpet players in the band. In middle school, the band only had one French horn available, and the instructor wasn't sure if it functioned. But Watkins had her mind set, and she spent time in a band room closet with the horn trying to figure it out.
It wasn't until her junior year of high school that the band had enough trumpets players to let Watkins switch to the mellophone — the French horn's marching band equivalent — full time. But without formal instruction in the instrument, she missed the cut for TBDBITL as a college freshman despite attending Summer Sessions.
"It was just eye-opening that first Summer Sessions because my high school band only had 18 people my first year," Watkins recalled. "Going to Summer Sessions where there's hundreds of people, I was just like, 'Oh my gosh, am I in over my head? Do I know what I'm doing?'"
Watkins joined athletic and university bands to improve her mellophone playing while she waited another year to try out for TBDBITL. All the while, her other artistic endeavors were flourishing. That first semester, she won the contest to design the mural that now hangs on the fourth floor of Hughes Hall, one of the oldest buildings on the Oval. She continued designing T-shirts for clubs at Elgin High School (after making a dozen for different clubs during her senior year, and they asked her to continue as a college freshman). She started working toward a minor in theater production.
When sophomore year came around, she was ready to make the marching band, and she's been a member ever since. Now in her third year with the band and fourth year at Ohio State, Watkins is a radiologic sciences and therapy major. She hopes to use her major to get a job in the medical field helping cancer patients because, despite all the artistic things she does, she is equally interested in science.
That doesn't mean she'll be done with her creative outlets once in the working world. There's no doubt in her mind that she'll still be painting, playing an instrument and getting involved in theater production. She's been "full go" since high school, and a career won't get in the way of that.
"It'd be amazing to still be involved in painting and theater, being a part of something like that," Watkins said of her future. "If there's a show or local theater, hopefully I'll be involved.
---