November 22, 2021
Marching Band Takes Fans to Broadway with Season's Final Show
Image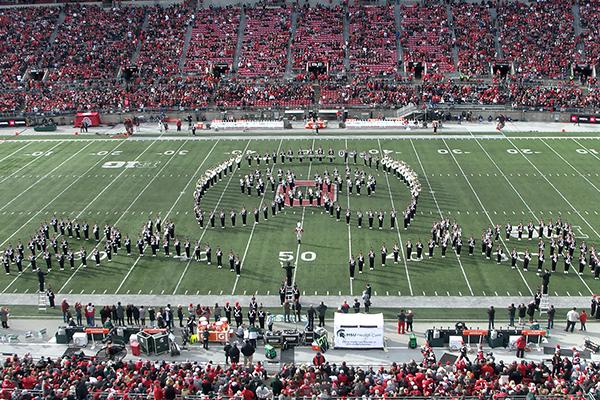 Description
The Ohio State University Marching Band gave fans a tour through musical history on Saturday when it performed its "Broadway Retrospective" halftime show featuring songs from six different Broadway musicals.
The halftime show began with the band performing "There's No Business Like Show Business" from the titular play. During that song, TBDBITL made a formation that spelled out "BROADWAY" and also a formation of curtains being raised and opened on a stage.
Part 2 of the show had the marching band play "Aquarius/Let the Sunshine" in from the 1967 musical "Hair." The band finished the song by spelling out "Hair" on the field.
In part 3, the band started by playing "I Don't Know How to Love Him" from "Jesus Christ Superstar," and the band then transitioned into the title track from "Phantom of the Opera." During the Phantom song, the band formed a chandelier, swung the chandelier back and forth before falling to the ground and breaking. The song closed with the band making a Phantom mask and roses formation.
Part 4 featured a solo performance from drum major Austin Bowman, as get got to twirl to the tune of "Waving Through a Window" from "Dear Evan Hansen." The band stood in a stage formation with Bowman twirling in the center.
The halftime show concluded with "Don't Rain on My Parade" from "Funny Girl." The band made a picture of a woman holding an umbrella and dancing in the rain.
For pregame, Austin Hare dotted the i in Script Ohio.
---