February 23, 2018
Marching and Athletic Band students team up for BuckeyeThon 2018
Image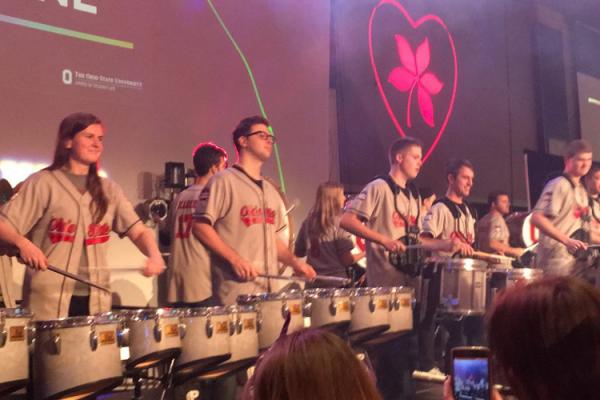 Description
Students in The Ohio State University Marching and Athletic Bands always strive to uphold an attitude of gratitude and a tradition of excellence. Normally, these values are demonstrated on the field or in the Schott, but some band members decided to take them to the dance floor.
On Feb. 9 and 10, 18 band members joined forces to participate in BuckeyeThon 2018, a 24-hour dance marathon that raises money for pediatric cancer patients at Nationwide Children's Hospital in Columbus. Although not all members danced the night away, the bands were well represented at the event.
Emily Balzer, a fourth-year mellophone player, served as the team's captain and said that being able to represent TBDBITL and the Athletic Band at BuckeyeThon was a great way to celebrate the team spirit of both organizations.
"By giving back to the community, it gives us a renewed sense of pride in our work," Balzer, a fourth-year criminology major, said. "We want to always produce something to be proud of, both on and off the field."
The team raised over $7,000 that went towards the overall total of more than $1.6 million. The final amount exceeded last year's efforts by nearly $100,000. However, fundraising was not the most important aspect of the BuckeyeThon. What mattered most was giving the children a memorable and fun experience. The combination of both is where the values of the Marching and Athletic Bands come into play.
"At BuckeyeThon we show our tradition of excellence by going above and beyond our fundraising goals, as many team members did this year," Balzer said. "We constantly show an attitude of gratitude for our blessings and opportunities, such as the one to assist the kids in BuckeyeThon and giving them the time of their lives."
Band members participated in a wide variety of activities, ranging from a silent disco to hanging out with their BuckeyeThon Kid, Avalon. Per Avalon's request, the team sported yellow shirts and accessories. Members of the OSUMB drumline also made an appearance at the dance marathon for a performance.
As Balzer reflects on her final BuckeyeThon experience, she's glad she was able to make a difference while representing TBDBITL.
"It is important for the OSUMB to be represented at BuckeyeThon because it is a way to exercise the core values of our organization," Balzer said. "BuckeyeThon is the perfect place to demonstrate our passion for giving back."
---