September 8, 2022
Marching Band Opens 2022 Season With 'Buckeye Jazz Café'
Image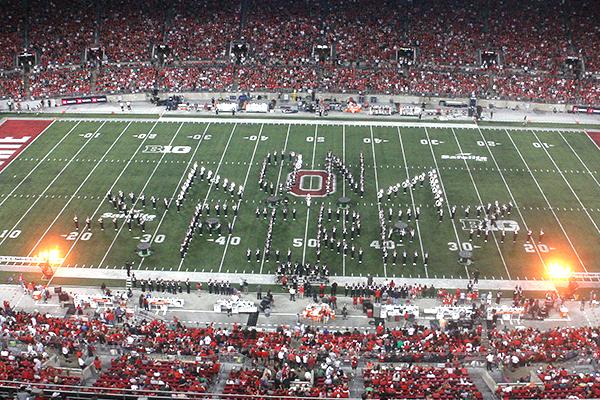 Description
The Ohio State University Marching Band began the 2022 season with "Buckeye Jazz Café," a halftime show that immersed the Ohio Stadium crowd in the sounds of a jazz cafe. Six tables were rolled out onto the field, with students standing and performing on tables and chairs throughout the show.
The show was played in three parts, opening with a rendition of "Sing, Sing, Sing." The band formed pictures of music notes during the song and spelled out "Sing Sing Sing" during the final part of the song. 
In Part 2, the band played "On Fire," a song by the Michel Camilo Trio. The band formed an image of two trumpeters and had them "stand" on the tables that were set on the field. The band also spelled out "On Fire" at the end of the song, with pyrotechnics going off as the song concluded.
Part 3, a rendition of "Channel 1 Suite" by Buddy Rich, is one of the longest parts of a show the band has ever played. Making images of cymbal players and of the Ohio State Block O, the band's final song of the day lasted for more than four minutes.
To make time for non-band elements of the pregame routine, the band moved its playing of "Carmen Ohio" to halftime as well.
The full halftime show can be viewed on YouTube.
The full pregame performance can also be seen on YouTube. Fifth-year sousaphone player Bradley Krak dotted the i in Script Ohio.
---