April 18, 2016
Kappa Kappa Psi and Tau Beta Sigma Win Top Chapter Awards
Image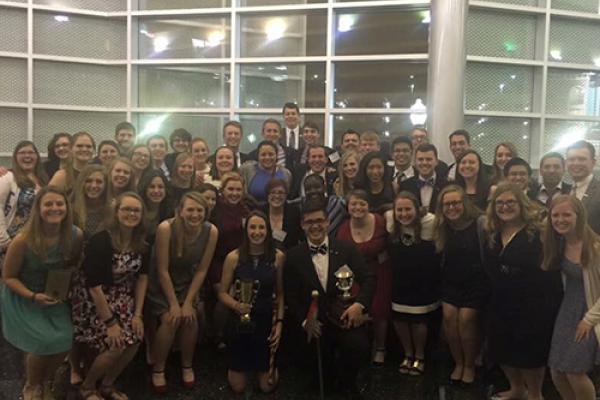 Description
Ohio State's Eta chapter of Kappa Kappa Psi and the Chi chapter of Tau Beta Sigma have won the Governor's Cup and Counselor's Cup, respectively, at the 2016 North Central District convention. These awards honor the most outstanding chapter in the district that best exemplify the ideals of its national organization. To win this award, each chapter must submit a bid for consideration. Both organizations exist to serve the band program in the School of Music and to promote musicianship in the campus community and beyond.
Kappa Kappa Psi is a national honorary band fraternity that accepts both women and men into its ranks. It operates primarily as a student service and leadership recognition society whose chief aim is to assist the director of bands in developing the leadership and enthusiasm that is required of his or her band. Its goals are to provide the band not only with organized and concentrated service activities, but also to give its membership valid and wholesome experiences in organization, leadership and social contacts. The honorary nature of membership is based on the premise that "it is an honor to be selected to serve" the band, its department of music, its sponsoring institution and the cause of band music at colleges and universities across the nation.
Tau Beta Sigma is a national honorary band sorority, a highly respected preeminent music organization comprised of over 160 collegiate chapters and more than 3,800 collegiate members with a balanced representation of women and men, which provides exceptional service to collegiate bands and promotes equality and diversity, including empowering women in the band profession. It cultivates leadership, educational achievement, music appreciation and community development. It cultivates and sponsors a variety of music education programs for its diverse membership and works closely with collegiate band directors.
---