October 1, 2021
Join TBDBITL in a 'Party Rock Country 'Extravaganza'
Image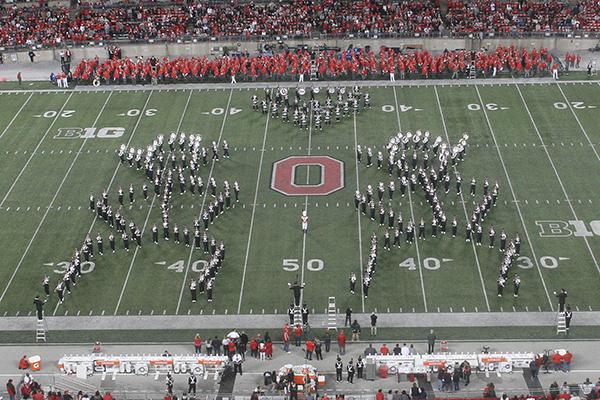 Description
The Ohio State University Marching Band got out its boots and cowboy hats for a "Party Rock Country Extravaganza" during halftime of the football game against Akron on Sept. 25. The band, joined by the Ohio State Marching Band Alumni, played a halftime show featuring songs from seven different artists and capped things off with a Quadruple Script Ohio.
The first part of the show, featuring just the current band, began with "My Kinda Party" by Jason Aldean. After forming the word "COUNTRY" with a cowboy hat, the band transitioned into "I Like It I Love It" by Tim McGraw and marched into a formation of a guitarist wearing a cowboy hat.
Part two of the show saw the band playing the Rascal Flatts hit "Me and My Gang." TBDBITL spelled out "RASCAL FLATTS" on the field and finished the set by making a picture of two cowboy boots facing opposite directions.
Then it was time for head drum major Austin Bowman to shine, as the band stood still while playing Carrie Underwood's "Cowboy Casanova." Bowman performed his first drum major feature of the season, twirling a flawless performance that included a back handspring while his baton was in the air. To finish part three, the band switched to country mainstay "Friends in Low Places" by Garth Brooks. The students did a line dance during the song's chorus while they were also standing in a formation of two line dancers.
In part four, the band closed things out with "Cruise" by Florida Georgia Line. After forming a flower and a large cowboy hat, the band then welcomed in the alumni for their performance.
The Alumni Band kicked things off by playing Darius Rucker's "Wagon Wheel" while standing in place. In their second part, the alumni played "Life is Highway" by Rascal Flatts while making the formation of a pickup truck. Despite not learning the drill until four hours before kickoff, the alumni's 400-person pickup truck had spinning wheels and even "drove" down the field.
The bands then combined for a Quadruple Script Ohio. Dotting the i from the current band were Austin Hare (south) and Katie Galuska (north). Those scripts were led by Bowman and assistant drum major Dalton Cararo, respectively. In the alumni scripts, Jim Kinney dotted and Scott Sommer led the east script, and Dan Banks dotted and Jason Stuckert led the west script.
In pregame, the current band did its ramp entrance followed by the alumni. The group then played "Beautiful Ohio" and "Carmen Ohio" together before the alumni left the field.
---