September 24, 2021
Hop back in the band's time machine to 'The Roaring '20s'
Image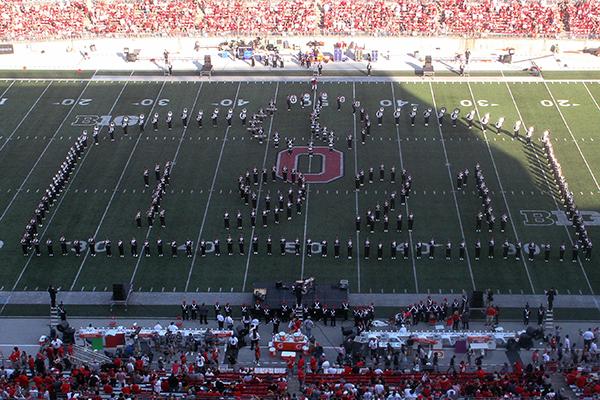 Description
The Ohio State University Marching Band's second halftime show of the 2021 season took Ohio Stadium fans back in a time machine 100 years to the original "Roaring '20s."
The band began its show with Panic! at the Disco's song "Roaring 20s," and then formed into a time machine that wound back a clock from 2021 to 1921. The rest of the show then featured music popular in the 1920s.
After "Roaring 20s," the band played "The Charleston" and marched in a formation of two dancers doing a 1920s-era dance. The students then danced steps of the Charleston dance while finishing the song.
The show's second part featured TBDBITL playing "St. James Infirmary Blues" and "Sweet Georgia Brown" as the Ohio State Traditional Jazz Combo joined in from a stage on the 50-yard line.  
In part three, the band honored George Gershwin by playing his "Rhapsody in Blue." The band formed a piano on the field and also spelled out the name "Gershwin" in cursive.
The show concluded in part four with "Ain't Misbehavin'" and a reprise of "Roaring 20s" as the band took the crowd back in its time machine to 2021.
The band also performed its traditional pregame routine before kickoff with Ryan Lannutti dotting the i in Script Ohio.
---