September 27, 2022
'Grease' is the word for TBDBITL halftime show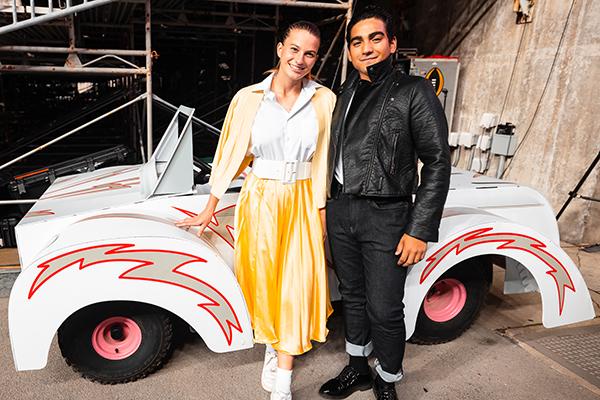 TBDBITL transported fans back to the 1950s with its "Grease at 50" halftime show on Saturday at the 'Shoe, paying homage to the classic 1971 musical and 1978 film about students at Rydell High.
Helping the band set the mood were two students dressed as Grease main characters Danny Zuko and Sandy Olsson, who were made famous by actors John Travolta and Olivia Newton-John. "Starring" as Danny and Sandy on Saturday were first-year band students Favius Pena and Sydney Reeves. Pena and Reeves drove around the field in a custom-made "Greased Lightning" car.
The first part of the show combined the "Grease Theme" and "Summer Nights," two early songs in the film. The band spelled out "Grease" during the theme song, then formed a jukebox and finally spelled out "TELL ME MORE," the refrain in the chorus of "Summer Nights."
In Part 2, TBDBITL played "Greased Lightnin'," and Pena and Reeves joined the show at that point by driving across the field. During that song, the band formed two other cars and had them race to a finish line, with an Ohio State-branded car defeating a car with the Michigan logo on it. The band then spelled "WINNER" and had two flags draped alongside the Ohio State Block O logo.
Part 3 featured the ballad "Hopelessly Devoted to You," sung in the movie by Newton-John in her big solo moment. The band made three interlocking hearts and finished the song by spelling "DANNY + SANDY." Part 4 was a feature song for head drum major Austin Bowman, who twirled to "You're the One That I Want" while the rest of the band played around him.
In the final part, TBDBITL played "We Go Together," forming into a Ferris wheel before spelling "GREASE" one last time.
The halftime show can be seen on YouTube below.
The pregame performance can also be viewed on YouTube. Dotting the i in Script Ohio for this game was fifth-year student Chris Cortese.
---