April 17, 2020
Drum Major Tryouts Going Digital in May
Image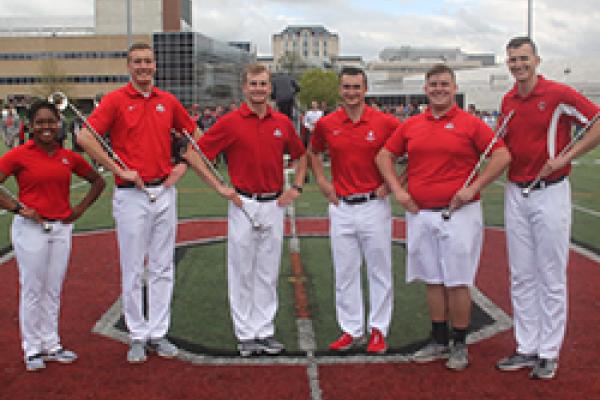 Description
With Ohio State's cancellation of all university events through at least July 6, The Ohio State University Marching Band will be conducting its annual drum major tryouts digitally May 1-2.
"In today's challenging times, it's comforting to know that some of the great traditions we have are not going by the wayside," said Director of Marching and Athletic Bands Christopher Hoch. "We're planning for the 143rd edition of the marching band in the fall, and we will kick off that process with the drum major tryouts in early May."
As part of this revised process, the six drum major candidates will take part in the interview portion of the tryout via video chat on May 1. The following day, they will have a one-hour window to record and submit their tryout routines at locations near them. The band has put in place measures to ensure routines are recorded during that window.
The tryout, as usual, will consist of a ramp entrance, a twirling routine and a series of high tosses. Candidates will use pre-recorded music for their routines instead of the standard backdrop of band members playing for them.
Serving as judges will be members of the band's directing staff as well as a small pool of drum major alumni. Judges will review the video submissions and deliberate on May 2, and the candidates will be informed of the results on May 3.
"I want to thank our students, staff and judges for their flexibility and willingness to work with the challenges associated with this new kind of audition, but I have no doubt that the auditions are going to be absolutely fantastic," Hoch said.
In order to try out to be the drum major or assistant drum major, students must have spent at least one year on D Row, the drum major training squad within the marching band. Students can remain on D Row for a maximum of two years.
The band's departing drum majors, Konner Barr and Morgan Davis, each served in their role as head and assistant drum major for the last two seasons.
The university's restriction on events will also have other impacts on the marching band's summer schedule. The annual Summer Clinic scheduled from July 10-12 has been cancelled, as have all Youth Summer Music Programs through the School of Music.
Summer Sessions were also scheduled to begin on June 2, and the band will announce alterations to that program in the coming weeks.
The band's summer performance with the Columbus Symphony Orchestra remains on the schedule as planned for July 31 and August 1.
---