September 8, 2016
Drum Major John LaVange Featured on Student Life Blog
Image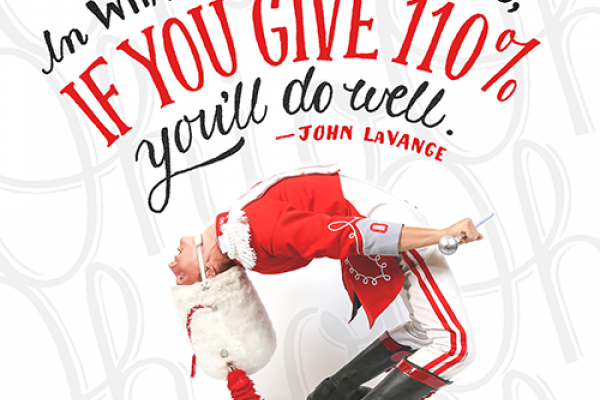 Description
Heading into his third year at The Ohio State University studying finance and economics, John LaVange has been able to showcase his talents both on the field and in the classroom. Like many other students, when he first began looking at colleges, John did not know exactly what he wanted to study. But one thing was certain: John knew he wanted to become the drum major at Ohio State, a role deeply rooted in Buckeye tradition since the 1920s. His story is a great example of turning a dream into reality, as John will have the honor of serving as the marching band's head drum major this year.
"In the band," John shared, "we have a saying – pick up your feet, turn your corners square and drive, drive, drive. That means in whatever you're doing, if you give 110%, you'll do well in any aspect of life." Though many might think a passion for hard work and success might be centered on his own goals, John has turned that passion to focus on others. He cares deeply about teaching younger students through the marching band's programs and cites his mother's career in education as an inspiration to him. John is considering teaching as well, possibly at the college-level after a career in policy first sparked by his internship this past spring with the Ohio State House of Representatives.
Read more on Student Life's OSU Spotlight blog.
---