December 11, 2019
Christopher Lewis overcomes odds to make TBDBITL in final year of school
Image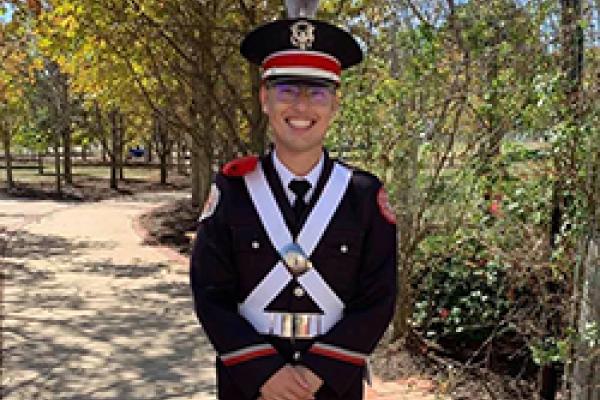 Description
With his head down and his eyes shut tight, Christopher Lewis received some of the best news of his life.
He would finally be a member of The Ohio State University Marching Band.
The anxiety washed away and the joyful tears started to flow as the senior heard his name called. And then he had to check himself. Did he really hear his name, or was it his imagination?
"I definitely lost all train of thought after that," Lewis recalled. "I had to make sure I heard it correctly. Knowing that I had worked for four years to get to this point and that it had all finally paid off, I couldn't have asked for anything better."
But Lewis' journey to TBDBITL was far longer than four years. His physical struggles and perseverance began more than 22 years ago shortly after he left the womb.
Living with cerebral palsy, which has limited the right side of his body for his entire life, there were always doubts about what he could accomplish. Doubts about whether he could play baseball. Doubts about whether he could learn the piano. And certainly doubts about whether he could make the marching band.
Doubts from everyone but himself.
"I'm not going to just quit on myself," Lewis said. "I'm going to make it work. I'm going to find a way."

PREMATURE
Fifteen weeks before her due date, Staci Lewis went into labor.
She was rushed to the hospital, put under anesthesia and had an emergency cesarean delivery. When she woke up, her son was born.
But that was only the beginning of his complicated first year of life. Just over a week after he was born, doctors discovered the brain bleed.
Christopher had suffered a grade four intraventricular hemorrhage, where vessels in his head bled into the fluid-filled parts of his brain. The hemorrhage led to a scary prognosis: Doctors told Staci and her husband, Andrew, that their son would likely have significant mental and physical disabilities throughout his life.
Undersized and underdeveloped, Christopher spent most of his first weeks in an incubator with tubes in his nose and mouth to help him breathe. When he unknowingly removed the tubes three times, his breathing stopped and emergency staff had to revive him. The third revival took the longest.
"Heart-wrenching," Staci said. "We thought for sure we had lost him. It was too long. He was blue."
But as he would prove later in life, Christopher was a fighter, and after 17 weeks at Cincinnati Children's Hospital Medical Center, the Lewises brought their son home.
They knew things wouldn't be simple at first. Christopher had trouble taking a bottle, as an underdeveloped suck/swallow mechanism would cause him to stop breathing. He spent six months on oxygen, he battled through multiple bouts of pneumonia and he had to return to the hospital after a few days at home for medication to stabilize his breathing.
Still, Christopher eventually made it out of the danger zone. Having him comfortably at home after all that time was emotional for his parents, but they knew Christopher would still have challenges to face.

ALWAYS ADAPTING
Early on, it was evident Christopher had avoided the serious mental disabilities that doctors predicted. He was reading and spelling faster than an average child.
Physically, though, it was just as evident that there would be difficulties.
Most babies can sit up, hold a bottle and feed themselves before their first year is over. Christopher could not. Most babies can prop themselves up on their arms. When Christopher tried that, he only used his left arm while the weaker right arm dangled. He was not beginning to walk until approximately 18 months old because of his right leg, while most babies have it mastered by 15.
Another doctor's visit shortly before he began to walk confirmed a diagnosis of cerebral palsy, a group of disorders that affect body movement and muscle coordination.
As he grew, athletics and music proved to be challenging obstacles, but Christopher always overcame them.
Kicking and paddling in water was trouble for the right side of his body, and fear of drowning kept him from being comfortable swimming until middle school. Without enough grip strength in his right hand, pole vaulting was unsafe. Instead, he stayed in the track and field world and switched to long jumping. Riding a bicycle proved tricky, but his parents had adaptable pedals made for him.
The earliest adjustment may have come with baseball at age 6. Unable to use his right hand due to a lack of grip strength, Christopher adapted by both catching and throwing with his left. He took inspiration from former major league pitcher Jim Abbott, who was born without a right hand.
"I ended up making it work," Christopher said. "That was one of the first times where I felt, 'Yeah, I can pretty much do anything.'"
Music came into his life when he picked up the piano at age 5. Minus the dexterity in his right hand to play melodic lines, Lewis instead crossed his hands, using his left for melodies and his right hand for chords. After a few years, he picked up the cello. Then, in fifth grade, his elementary school's music teacher, Dee Dee Hamlin, suggested to Staci that Christopher pick up the trombone.
As the rare brass instrument that would not require pressing valves with his right hand, it seemed perfect for Christopher. He could grip the trombone slide as well as anyone without cerebral palsy. He was hooked, and it didn't take him long to catch up to classmates.
His trombone skills progressed as he got older, and soon enough he joined his high school marching band. When he was a sophomore, his neighbor had an extra ticket to a Buckeyes football game. While marveling at Skull Session, he discovered his next challenge: playing trombone for The Ohio State University Marching Band.
"He's always had that determination to do what we didn't think that he could do, even though we didn't tell him we didn't think he could do it," his father Andrew said. "He would always prove us wrong. He always surprised us. He still surprises us."

IF AT FIRST YOU DON'T SUCCEED
Christopher enrolled at Ohio State, majoring in biochemistry with a minor in forensic science. But before he took his first class, he was pursuing a spot in the marching band.
Always aware of the issues he has to overcome, Christopher went into that first year with low expectations but high hopes. His parents drove him back and forth from Cincinnati for Summer Sessions multiple times per week so he could prepare for August tryouts.
He struggled adapting to TBDBITL's unique marching style. His right arm kept wearing out from holding the trombone in unfamiliar ways, and his right calf could not point his toe enough to match up with the rest of the students. All that extra effort on his body just to reach the basic standards of precision wore him out quickly.
"I remember looking around and thinking, 'Yeah, a lot of these guys are smoother and stronger than me,'" Christopher said. "My chances were probably not the best, but I'm still going to be out here and not quit on myself."
Surprising even himself, he made it through the first round of cuts. But when the final cuts were announced on Make the Band night, Christopher's name was not called.
One year later, Christopher tried out again. This time, he missed that first cut, regressing from his first tryout performance. It was his lowest point.
He approached Christopher Hoch, director of Marching and Athletic Bands at Ohio State. In tears, Lewis saw his marching band dreams slipping away.
"I was not in a good spot after that," Christopher said. "To know I wasn't going to make it past that round was very hard. I asked Dr. Hoch, 'Am I wasting my time? Am I ever going to have a shot?'"
Hoch didn't know the answer. But an encouraging response kept Christopher going.
"I told him he certainly had the heart and drive to make it happen, and we were going to do everything we can to help him," Hoch said.
He recommended Christopher spend time with Matt Brancaleone, an Ohio State Sports Medicine physical therapist at the Wexner Medical Center who serves as the band's medical coordinator during the season. Christopher gave it a shot, and that decision and determination may have been exactly what he needed to make the band.
GETTING STRONGER
After meeting Christopher, Brancaleone knew they needed to work on endurance, strength and balance. Rather than work on just strengthening the right side of Christopher's body, Brancaleone worked to improve his foundational strength. He had Christopher perform exercises with both arms and both legs before focusing on specific exercises that would increase his chances of making the band.
It was clear early on that Christopher was a model patient.
"Chris is like the greatest patient ever," Brancaleone said. "He always works his tail off, and he always has a smile on his face."
They met twice a week for one-hour sessions during Christopher's sophomore year at Ohio State with the goal of a junior-year tryout success. As winter rolled into spring and Christopher's baseline strength improved, Brancaleone knew it was time to start training specific muscles for TBDBITL's marching style.
When it came to making the band, Christopher actually had the opposite problem from many patients with cerebral palsy. Normally, CP patients can use an electrical stimulation device with a sensor on the heel and electrical pads beneath the shin that will cause the toes to rise upward with each step, preventing tripping.
For Christopher, though, the biggest issue was that he needed the leg to lift up high and get his toes pointed downward with every step.
Brancaleone reverse engineered that electrical stimulation device for Christopher's specific needs. He moved the sensor to the ball of the foot and the stimulation pad to Christopher's calf. With that setup, every time Christopher lifted his foot off the ground, the pads would stimulate his calf and cause his toes to point down.
The modification was an immediate success.
"Not only did that help with performance while he was marching, but we also used it as a strengthening piece," Brancaleone said.
Christopher was ready and excited for his third tryout in August 2018. He received comments and compliments from others who noticed his dramatic improvement. Despite the huge progress, his name was once again not on the list when Hoch announced the band. He was informed he had just barely missed the cut.
Christopher and Brancaleone had another year of work ahead of them.
"I was going to come back for a fourth year and give it another go no matter what," Christopher said. "Knowing how close I was, I would have been very disappointed in myself if I said, 'That's enough.'"

MAKING THE BAND
Two physical therapy sessions a week continued throughout Christopher's junior year. He got stronger, more coordinated, more balanced, more motivated.
By the time his final tryout arrived, he was ready.
The tryout process for students who have never made the band can be grueling. They have two full "candidate days" that teach them TBDBITL marching basics followed by two full days of tryouts with the rest of the band. Each day consists of three sessions. It's a strenuous four-day process that can wear out even the toughest minds, strongest bodies and fanciest pedometers.
"I walked away thinking the fourth time was the best I've looked, best I've sounded," Christopher said.
And after four years of hard work and a lifetime of overcoming the odds, when Hoch read off all 228 names on Make the Band night, Christopher's name was called as F13, putting him in one of the final two trombone spots in F Row.
Finally, he got to celebrate with his peers. Finally, he would get to take part in the traditions he had observed from afar. Finally, he could perform in front of 100,000 people at Ohio Stadium on gameday.
"It was a rush," Christopher said. "I finally got over the hump and where I wanted to be, which is celebrating with my row, with some of the best marchers and musicians in the country. It was a very, very special moment."
Christopher fired off a quick text to his parents to give them the good news, and that started another celebration in Cincinnati.
"We were screaming in the house when we got the text," Andrew said.
"There may have been a few tears in there, too, to be honest with you," Staci said.
Brancaleone was on a camping vacation in Michigan on Make the Band night, but after tossing and turning at 2:30 a.m., he picked up his phone and found Christopher's Twitter profile. It had been updated to include "TBDBITL F Row."
"He figured out a way," Brancaleone said. "I just told him what to do. He put all the work in. Out of all the patients I've seen, there are probably four or five people who have worked their tail off like him and accomplished something they wanted to accomplish."
Christopher found a moment to thank Hoch and the rest of the band staff for letting him into the band. Hoch's response? Nobody let him in. He earned it on his own merit.
"That points to a remarkable perseverance, work ethic and drive that we hope to see in all our students," Hoch said. "For him, he needed to go that extra mile and he absolutely did it."
Nearly four months have passed since Make the Band night. Since then, Christopher has experienced some of the best TBDBITL has to offer. He marched for the first time during double Script Ohio in the season opener on Aug. 31. His first ramp entrance came in the Miami University game on Sept. 21. He got to perform at a huge rivalry game on Nov. 30 as the band traveled to Michigan, and he was part of a Big Ten Conference championship victory on Saturday.
The adventure has been everything he hoped for, and the journey was worth it for this one special season.
"I've worked so hard to get where I am, and to get that chance to live my dream is amazing," he said.
Up next for Christopher? He graduates in May and hopes to use his Ohio State biochemistry degree to work in a crime lab. He's not sure whether that means working at the local, state or federal level quite yet, but he might even have his sights set on the FBI Laboratory in Quantico, Virginia.
Sound like he's setting his goals too high?
Twenty-two years of evidence has proven there's nothing he can't accomplish.
---