April 29, 2023
Callender, Ford Named TBDBITL Drum Majors for 2023
Image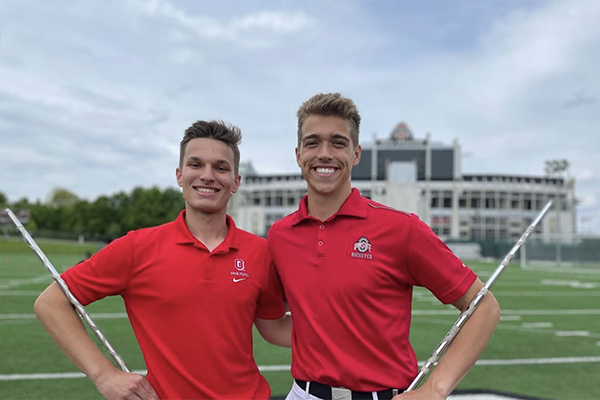 Description
For the 2018 season-opening football game against Oregon State, Clayton Callender came to Ohio Stadium to support his step-brother, Noah Thomas, in Thomas' performances with The Ohio State University Marching Band. Watching the band on the field, Callender — then a freshman in high school — found himself in awe of head drum major Konner Barr.
"It looked like he was having such a great time on the field," Callender said of Barr. "I just wanted, from that moment on, to feel what he felt in that moment."
Five years later, Callender will be inspiring awe in others.
Callender, a rising second-year student from Dover, was named the band's newest head drum major following Saturday's tryout process at Lincoln Tower Field. Joshua Ford, also a rising second-year student from Gahanna, was named the band's assistant drum major for 2023.
After a slight bobble to start his three-part tryout routine, Callender knew he had to be perfect for the rest of the afternoon. He achieved that feat, having zero drops in his choreographed twirling routine as well as his high-toss routine.
"The crowd really helped when they erupted for some of my tricks, helping to get my confidence going," Callender said. "From that point on, I was just living the dream. [When I was selected,] it was a surreal feeling. It was nothing like I've ever felt before, just a feeling that all the hard work has paid off and that I've achieved my dream."
Callender, a social work major, was a member of D Row, the band's drum major training row, in 2022. He is the first Ohio State drum major from Dover high school.
For Ford, the band's new assistant drum major, twirling at Ohio State runs in his blood. Ford's uncle, Brian Berendts, was TBDBITL's head drum major in 1992 and 1993, and that encouraged Ford to ask for a baton for Christmas. In 2017, when Ford was in eighth grade, he finally got his baton and started on his path to his new role.
Berendts was there for him Saturday to provide support and comfort between routines.
"I would sit [on the grass], and we would just talk so he could calm me down through everything," Ford said. "I was panting and heaving and anxious, and he was just saying, 'Calm down, calm down.'"
Ford was Saturday's only candidate to feature a sequence during his tryouts where he juggled three batons. Starting his routine with just one, he incorporated the other two batons during a cartwheel sequence where he picked the batons off the ground mid-cartwheel as the first baton was in mid-air.
Ford follows in the footsteps of fellow Gahanna Lincoln High School grads Berendts (1992-93), Karl Neudorfer (1994-95), Barr (2018-19) and Dalton Cararo (2021-22 assistant) as a drum major at Ohio State.
"I've always wanted to do this, and seeing Konner at OSU opened my parents' minds more, and then seeing Dalton at Gahanna really allowed them to think that this was a viable thing," Ford said. "Being able to be so close to so many drum majors really helps."
Saturday's competition was held at the band's practice field just south of Ohio Stadium. Students from the marching band played live music for the candidates to use in their twirling routines, and fans were welcome to watch.
Eight candidates fought for the two positions this year, performing the standard drum major tryout made up of three parts: a simulated ramp entrance with a back bend and strut, a series of high tosses, and a solo twirling performance. That solo twirling performance, where candidates choreograph a custom routine for themselves to showcase their twirling skills, was performed to the sounds of Joan Jett's "Bad Reputation" and Ricky Martin's "Livin' La Vida Loca," which was part of the band's 2022 Shrek halftime show.
Candidates' routines were judged by current band staff and former drum majors. Scores from their three twirling routines were combined with scores from the candidates' interviews that were conducted Friday.
With drum major tryouts complete, Callender and Ford are now the first two official members of the 2023 marching band. Tryouts for the band's 228 music-playing members will be held in August.
---