October 10, 2023
Brutus Buckeye and TBDBITL visit wonderland at Maryland game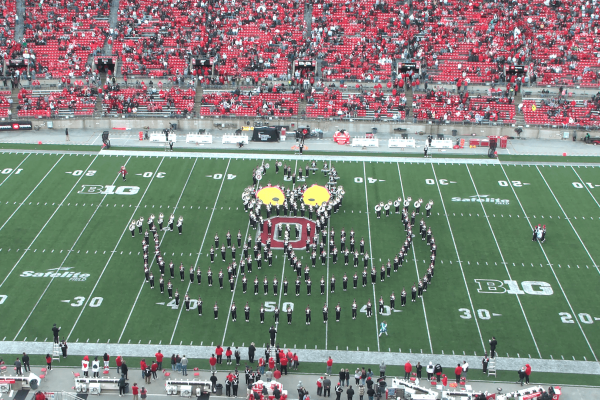 The Ohio State University Marching Band took listeners down the rabbit hole during this weekend's home football game against the University of Maryland. The halftime show followed Brutus Buckeye's journey through a Buckeye forest wonderland with the famous Alice.
TBDBITL performed "Alice's Theme from Alice in Wonderland," "Wonderland," "Mad World," "White Rabbit," "The Mad Hatter" from "Wonderland the Musical," "O Fortuna" from "Carmina Burana" and "Symphony No. 10, mvmt 2."
The band's formations included Alice with an open book, a rabbit with a stopwatch, a caterpillar, the Cheshire Cat and the Mad Hatter's hat.
WATCH: 
Isabel Slaven, an industrial and systems engineering major, dotted the i for the second time this season. She was part of the all-female i-dotting in September that celebrated the 50th anniversary of women joining the band.
PREGAME: 
---