April 30, 2022
Bowman, Cararo returning as drum majors for 2022
Image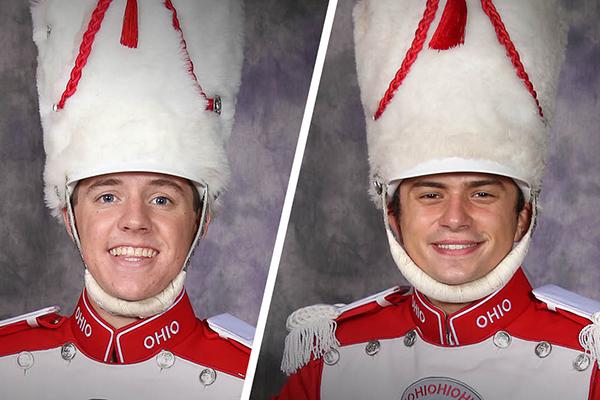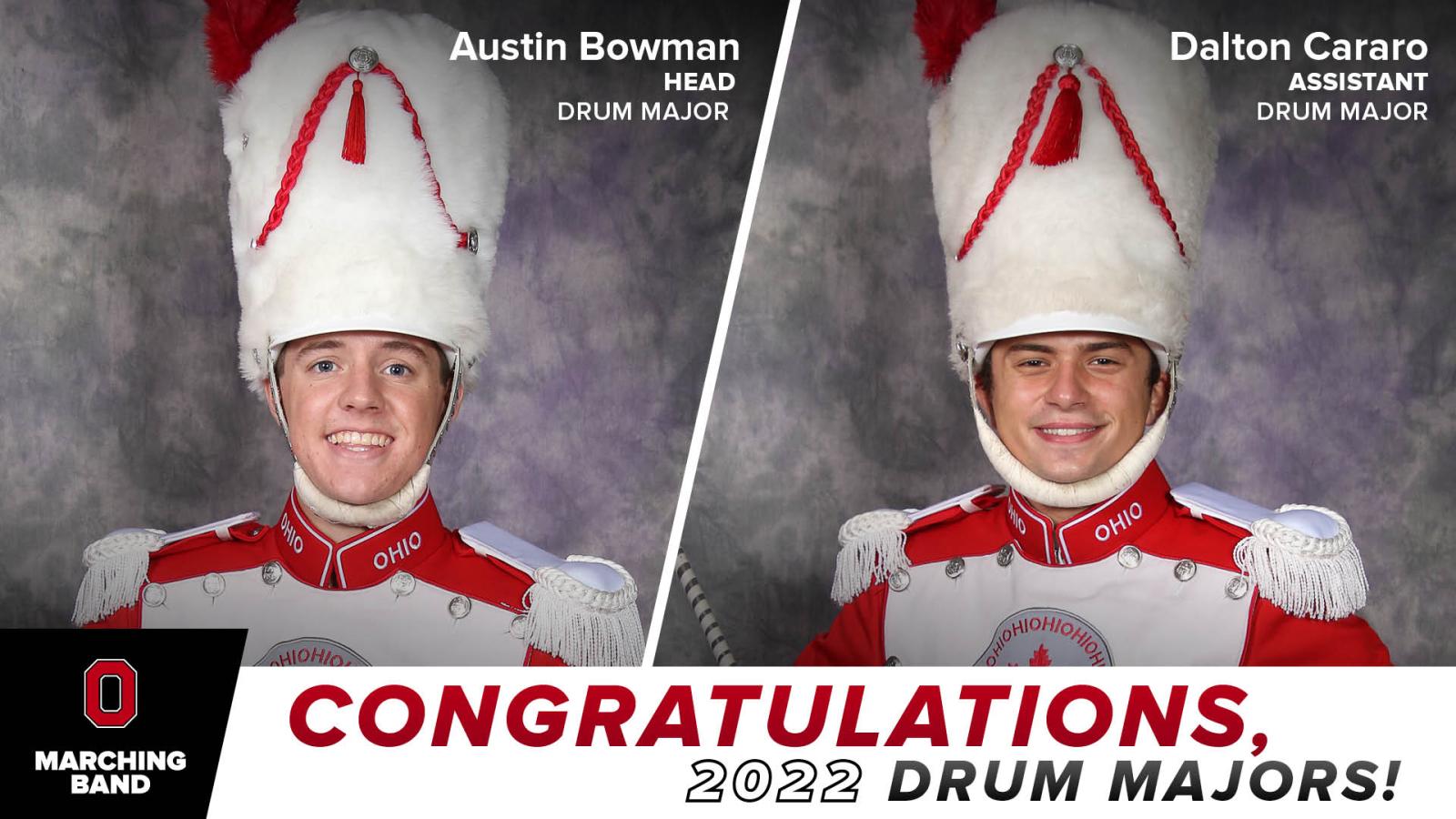 Description
For the first time since 2019, drum major tryouts returned to their usual location at Lincoln Tower Field. To go along with that familiar location, The Ohio State University Marching Band selected two familiar faces to be the band's drum majors in 2022.
Austin Bowman, a junior, will be back for his second year as the band's head drum major in the fall. Bowman is an accounting major who served as TBDBITL's head drum major for the 2021 season.
"I can take a sigh of relief now," Bowman said. "I got it for a second year, and now I've got to enjoy the ride, give back as much as I can to the band and the fans, and just enjoy what I have left."
Also returning in 2022 will be assistant drum major Dalton Cararo. A rising fourth-year majoring in criminal justice from nearby Gahanna, Cararo held the same role in 2021.
"This feels amazing, and this is the dream coming true for me," Cararo said. "I love working with this program, and I'm glad I get to go on the field and perform."
This will be the first time the band has the same two drum majors in the same roles since 2018-19, when Konner Barr and Morgan Davis were head drum major and assistant drum major, respectively.
Returning to its normal format after two years with an altered tryout process, the competition in 2022 was held at the band's practice field just south of Ohio Stadium. Students from the Marching Band and Athletic Band played live music for the candidates to use in their twirling routines, and fans were welcome to watch.
Candidates performed a standard drum major tryout including a ramp entrance with a back bend and strut, a series of high tosses and a solo twirling performance backed by "Mighty Wings" from the 2021 band's "Top Gun" halftime show.
Candidates' routines were judged by band staff and former drum majors. Those twirling scores were combined with scores from the candidates' interviews with that were conducted a day earlier.
"I'm really excited to have Austin and Dalton back for another year," said Dr. Christopher Hoch, director of marching and athletic bands at Ohio State. "They were a tremendous team last year, and I know they're going to be a tremendous team leading the band once again in 2022."
Bowman began twirling six years ago, but he was inspired earlier in life when he watched future Ohio State drum major Josh Halter twirling at Lakewood High School.
A four-sport athlete in high school (basketball, baseball, track and cross country), Bowman used his natural athleticism to learn twirling and became Lakewood High School's drum major for all four years.
Bowman is the program's third head drum major from Lakewood High School in Hebron, joining Halter (2008-09) and Kyle West (2012-13).
Cararo had no plans to become a twirler until high school, when his band director at Gahanna Lincoln High School suggested he try out to be the school's drum major. Despite not liking it initially, Cararo stuck with the training, became Lincoln's drum major as well as a regular attendee at Ohio State's Drum Major Winter Sessions.
After spending two years on D Row and playing trombone as part of Ohio State's Athletic Band program, Cararo will now help lead the marching band in the fall.
Cararo is the fourth person from Lincoln High School in the last 30 years to wear a drum major uniform, joining head drum majors Brian Berendts (1992-93), Karl Neudorfer (1994-95) and Barr (2018-19).
With drum major tryouts complete, Bowman and Cararo are now the first two official members of the 2022 marching band. Tryouts for the band's 228 music-playing members will be held in August.
---