May 11, 2021
Bowman, Cararo Named New Drum Majors for 2021
Image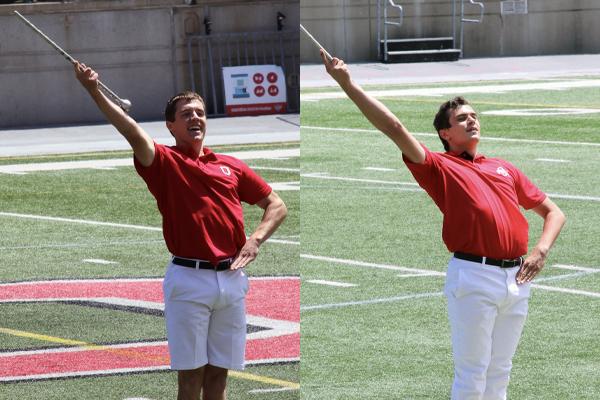 Description
Following a tryout at Ohio Stadium earlier in the month, The Ohio State University Marching Band has announced its two new drum majors for the 2021 season.
Austin Bowman, a sophomore from Hebron, will be the 64th head drum major in program history. An accounting major in the Fisher College of Business, Bowman spent his freshman year at Ohio State on D Row, the band's drum major training group.
Dalton Cararo, a third-year student from Gahanna, will be TBDBITL's assistant drum major in 2021. The criminal justice major has spent the last two seasons on D Row.
The drum major candidates learned the tryout results during a virtual meeting with band staff Monday night.
"As soon as I hit 'exit' on the call, I kind of jumped out of my chair and went and hugged my parents and yelled with excitement," Bowman said.
Bowman began twirling six years ago, but he was inspired earlier in life when he watched future Ohio State drum major Josh Halter twirling at Lakewood High School.
"Seeing him perform, being out in front of the band, being charismatic with it, and just putting on a show for people, I thought, 'Wow, that's really cool,'" Bowman said.
A four-sport athlete in high school (basketball, baseball, track and cross country), Bowman used his natural athleticism to learn twirling and became Lakewood High School's drum major for all four years.
Bowman is the first head drum major to earn the title entering his sophomore year since Jason Stuckert in 2010. He is the third head drum major from Lakewood, joining Halter (2008-09) and Kyle West (2012-13).
Similar to Bowman, Cararo shared a joyous moment with his family after hearing the results Monday night, celebrating in-person with his father and over the phone with his mother and sister.
"It's hard to explain what this means to me," Cararo said. "It's a fantastic feeling. My brain is still all over the place right now."
Cararo had no plans to become a twirler until high school, when his band director at Gahanna Lincoln High School suggested he try out to be the school's drum major. Despite not liking it initially, Cararo stuck with the training, became Lincoln's drum major as well as a regular attendee at Ohio State's Drum Major Winter Sessions.
After spending two years on D Row and playing trombone as part of Ohio State's Athletic Band program, Cararo will now help lead the marching band in the fall.
"I just kept coming back and wanting this position more and more," Cararo said. "I never thought I was really good at something, but once I picked this up and started twirling in front of my high school band, classmates came up to me and told me I was good at something. It really built my self-esteem."
Cararo will be the fourth person from Lincoln High School in the last 30 years to wear a drum major uniform, joining head drum majors Brian Berendts (1992-93), Karl Neudorfer (1994-95) and Konner Barr (2018-19).
"This was a tough competition, and it was really well done from all parties," said Dr. Christopher Hoch, director of Marching and Athletic Bands. "The students should be very proud of themselves, and I know I'm proud of them.
"In a year like what we've had, we were really impressed at the high level of performance skills that all of them exhibited. Things could have been a lower quality than what we've come to expect, and it certainly wasn't. The candidates all brought it."
Due to ongoing construction at Lincoln Tower Field and concerns over the COVID-19 pandemic, the tryouts were held at Ohio Stadium in front of band staff, judges and a limited number of candidate family members.
Candidates performed a standard drum major tryout including a ramp entrance with a back bend and strut, a series of high tosses and a solo twirling performance to an audio recording of the Demi Lovato's "Confident" from the band's 2020 "Centennial of the 19th Amendment" show. Unlike normal years, no other members of the band were in attendance to play live musical accompaniment.
Candidates were judged on their twirling performances by band staff and former drum majors. Those twirling scores were combined with scores from the candidates' virtual interviews that were conducted the week before the in-person twirling.
With this selection, Bowman and Cararo officially become the first two members of the 2021 band. TBDBITL is planning a return to in-person Summer Sessions this year before a return to in-person tryouts in August.
---