November 17, 2022
Band rocks the 'Shoe with 'A Tribute to The Rolling Stones'
Image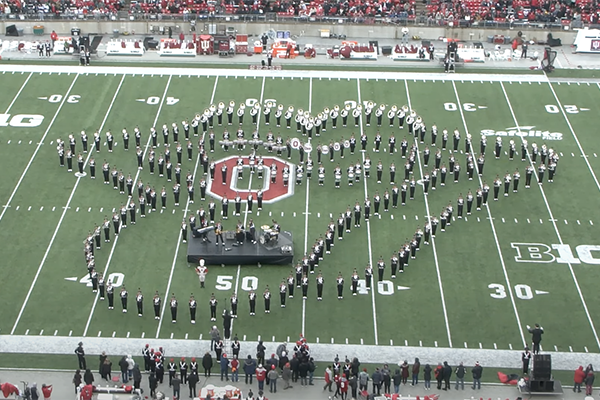 Description
Bringing out a special stage for marching band students to rock Ohio Stadium, The Ohio State University Marching Band paid tribute to one of the greatest rock acts of all time with its "A Tribute to The Rolling Stones" halftime show on Saturday.
The performance featured five extra musical instruments on a stage at the 50-yard line: A bass guitar, two electric guitars, a keyboard and a drummer, all spots filled by regular members of the marching band. Students in the band auditioned to fill those spots on Wednesday, Nov. 3. Playing on the stage for the show were Matt Chalk (guitar, normally a snare dummer), Sam George (guitar/sousaphone), Noah Krupa (bass guitar/mellophone), Alex Tuma (keyboard/trumpet) and Ryan Harris (drum set/snare drum).
The show opened with "Start Me Up," the perfect song to begin a Rolling Stones-themed show. The band got into the formation of a guitarist before transitioning into "It's Only Rock and Roll (But I Like It)." The opening number concluded with the band forming The Rolling Stones' iconic lips-and-tongue logo.
In Part 2, TBDBITL played "Jumpin' Jack Flash," spelling out the word "STONES" multiple times. That song transitioned seamlessly into Part 3's "(I Can't Get No) Satisfaction," which began with the band forming a giant guitar around the stage. "Satisfaction" also included a half-Union Jack formation and featured a standstill segment for head drum major Austin Bowman to twirl.
The show concluded with Part 4's "You Can't Always Get What You Want" and "Paint it Black." As the part began, flugelhorn player Nathan Hochstetler and trumpet player Julia Moxley got solo features on the stage. As "Paint it Black" neared the end, TBDBITL formed an image of two singers on stage raising their microphone stands.
The whole show can be viewed on YouTube below.
During pregame, the band performed a special tribute to its 68 departing members while forming "OSUMB" on the field. In Script Ohio, Ethan Kowalski dotted the i.
---