December 20, 2017
Back to the Lone Star State
Image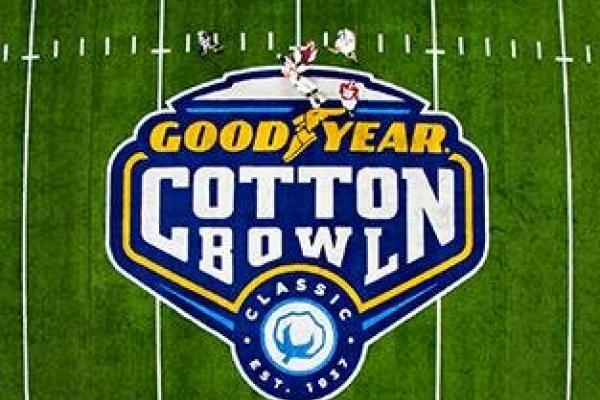 Description
Dotting the "i" in Script Ohio is a sousaphone player's ultimate goal when they're part of the Ohio State Marching Band. While fourth-year sousaphone player Matthew Heard has already dotted the "i" this season — once for the Ohio State-UNLV game and again at Michigan — his upcoming strut at the Cotton Bowl stands to be his most memorable yet.
Heard grew up in Dallas and never anticipated that he'd dot the "i" on his native Texas soil. He says he can't think of a better way to end his OSUMB career, and he is grateful to be able to do so in the presence of his family and friends.
"Performing one more time in Dallas gives me a chance to share the experience of game day and my moment at the top of the 'i' with my entire family one last time, even those who weren't able to make it up to Ohio or Michigan for my other dots," said Heard, a neuroscience major and 2017 graduate.
Ryan Dunson is also excited to bring some Ohio State spirit to his hometown. Dunson, a second-year snare drum player, grew up outside of Fort Worth, Texas, and is looking forward to going home for the final performance of the year.
"Both the pregame and halftime shows are going to mean a lot, since the majority of my family will be at the game watching," Dunson, a logistics management major, said. "I am also excited because a lot of my younger high school friends will be in attendance at some of the rehearsals, and they will finally get to see TBDBITL in person after I have been talking it up for the past three years."
For first-year tenor drums player John Bishop, his homecoming is reminiscent of when he realized he wanted to be in TBDBITL. Bishop, a Dallas native, attended the 2014 National Championship game at AT&T Stadium and was mesmerized by OSUMB's halftime performance. He knew in that moment that TBDBITL was something he needed to be a part of.
Three years later, he can't believe he'll be performing in the same venue where he was first taken by the band. While he's excited to play for his hometown crowd, he hopes the band's performance will have an impact on aspiring young musicians.
"I'm most looking forward to playing for the Dallas fans and my family, because I know how much they love this band," Bishop, a computer science engineering major, said. "I also hope to inspire another Dallas kid, just as I was inspired years ago."
As band members look ahead to their performance at the Cotton Bowl, they are also looking back at this past season. From marching down the ramp at the home opener to watching the Buckeyes defeat That Team Up North, the OSUMB has had a memorable season, with the fans cheering them on along the way.
Dunson recalls that the fans at last year's Fiesta Bowl were incredible, and he hopes to see that same energy at this year's bowl game.
"The second that Clemson's band got off the field and our head drum major took that first step off the sideline, the crowd went absolutely wild," Dunson said. "I am hoping for that same effect this year, as that will definitely put that extra drive into every band member."
---