April 19, 2022
Athletic Band pays tribute to Van Halen with Spring Game show
Image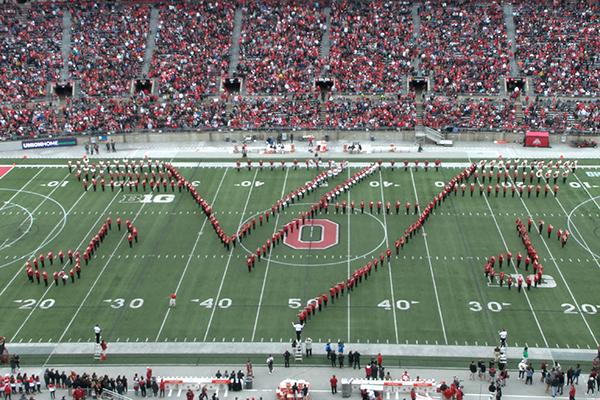 Description
The Ohio State University Athletic Band made the Ohio Stadium crowd jump for joy on Saturday with its halftime performance dedicated to the music of Van Halen.
Dressed in red, Athletic Band entered the field for halftime and began rocking the Shoe with Part 1 of its show that featured "Dreams" and "Runnin' With the Devil." The band spelled out "VAN HALEN" on the field before making the image of a guitarist and spelling out "DREAMS."
In Part 2, the band played "Panama" and made a picture of the 1951 Mercedes from the "Panama" music video. The band then finished the song by forming a field-size Van Halen logo while assistant drum major Dalton Cararo got a feature twirling performance.
Part 3 saw Athletic Band play perhaps the most iconic song in Van Halen's catalog: "Jump." The band began the show's final part by forming "1984" on the field, a reference to the name of the album where "Jump" debuted as well as the year of its release. The band then made two stick figures on the field and had each of them jump vertical before spelling the word "JUMP" and "VAN HALEN" one last time to close out the show. 
The full performance can be seen below.
The Spring Game capped off an exciting semester for Athletic Band that saw the group return to the road after missing road trips in 2020 and 2021. 
Traveling with three different teams, Athletic Band got to visit four different states and even saw a Buckeyes team win a national championship.
Athletic Band traveled with the men's basketball team to Indianapolis for the Big Ten Conference Tournament as well as to Pittsburgh for the first and second rounds of the NCAA Tournament. With women's basketball, Athletic Band went to Indianapolis for the Big Ten Tournament, then went south to Baton Rouge, Louisiana, for the NCAA Tournament's first and second rounds before flying northwest to Spokane, Washington, for the Sweet 16.
And with women's hockey, Athletic Band saw the Buckeyes lift a trophy in University Park, Pennsylvania, as Ohio State defeated Minnesota-Duluth 3-2 for the national championship.
---