November 17, 2017
2017 Senior Reflections
Image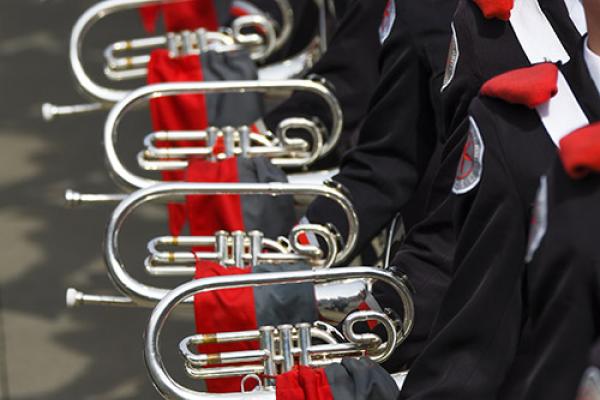 Description
At the beginning of each season, 228 marchers take on the challenge of being in The Best Damn Band in the Land. For some, it's the first time they'll don the iconic uniform and march into Ohio Stadium amid the fanfare and excitement of game day.
For others, it's one of the last times they'll take part in one of Ohio State's most honored and storied traditions.
Over 40 OSUMB members will be hanging up their plumed hats at the end of the 2017 season, including fourth-year mellophone player Mike Loveless, fourth-year trumpet player Hannah Welch and fifth-year baritone player Christian Deiderich.
Deiderich, a graduate student studying computer science and engineering, said that he is incredibly grateful to have been a part of TBDBITL. As he looks ahead to his final home performance at the Ohio State-Illinois game, he is focused on trying to live in the moment.
"I have been fortunate enough to be a member of the greatest marching band in the world and have had experiences that others will never get, ones that I will remember for the rest of my life," Deiderich said. "As I stand on that field, I think I'll just try to take everything in one last time and really enjoy it."
Loveless echoed Deiderich's sentiment, saying that his time in the OSUMB has been a dream come true and helped him become the person he is today.
"Being in TBDBITL has been absolutely everything that I'd hoped it'd be," Loveless, a senior majoring in animal science, said. "In a broader sense my main expectation was really that TBDBITL would shape my entire college experience and it has, giving me some incredible opportunities that make me extremely thankful I was able to become a member."
Despite the mutual feelings of pride and gratitude, the season won't end for TBDBITL's veteran players without some sadness. Welch, a senior psychology major, said she expects that the final home performance will be bittersweet — a mix of gratification for all they've accomplished and a bit of heartache that it all has to come to an end.
"It's so sad to think that it will be the last time I will share the field with my friends and I know that this time will be very special," Welch said. "My hope is to make the most of every moment of that ramp along with all of the other aspects of game day."
Many members of OSUMB's graduating class have shared in a wide variety of once-in-a-lifetime experiences. From cheering on the Buckeyes at the inaugural College Football Playoff National Championship to playing down the streets of London and appearing in a nationally televised commercial for Apple, these TBDBITL members have had a whirlwind of a marching career.
However, the entirety of their band experience is not made up of standout performances. Countless Skull Sessions, Ramp Entrances and Script Ohios have also played an important role in making them the marchers they are today.
For Welch, being able to bond with other band members through these experiences has been the most rewarding aspect of her OSUMB career and has taught her the importance of lasting friendships.
"The people that I have met and come close to are people that I will hopefully continue to have relationships with for the rest of my life," Welch said. "We've gotten to travel to so many new places together and experience incredible Buckeye wins that will be memories that we will always cherish."
Being in band provided a variety of life lessons for each of its members. For Deiderich, band has taught him to have faith in himself and his abilities, an attribute that he believes he will carry with him long after his TBDBITL days are over.
"I always found a way, just like everyone in the band does, to get everything done and put on a great show each week," Deiderich said. "Because of these experiences, I never accept that anything is impossible and push myself to achieve goals that others might not even attempt."
For Loveless, being in the OSUMB has helped him to grow into a better communicator through his role as the squad leader for E-Row. He, too, believes that being in TBDBITL has given him skills — aside from his musical abilities — that can help him be successful after he leaves Ohio State.
"The lessons I've learned as a squad leader, and even before that from watching others, are important not just for potential future leadership positions, but for how I live my life every day," Loveless said. "I think my experience in the OSUMB will prove invaluable as I move on in life toward wherever I'm heading next."
---